As a standard passenger touring tire, Goodyear Assurance All-Season aims at low-demanding drivers that put comfort and safety above other metrics. Its stable shoulder blocks and wide tread grooves indeed seem to handle the job well, but to what extent?
Our COR Wheels team has had a handful of experiences with this tire during our annual test, whose findings will be discussed in the full tire review below.
In this article:
Goodyear Assurance All-Season Specifications & Features
Tire Type
Passenger All-Season
Tire Size
14″ – 19″
Weight
13.0 LBS – 26.0 LBS
Load Index
84 – 106
Load Range
SL – XL
Speed Rating
– H: up to 130 mph
– V: up to 149 mph
Warranty
65,000 miles
Ratings
6.5/10
Goodyear Assurance All-Season has been considered the brand's entry-level passenger tire developed for minivans and family sedans seeking practical tires that deliver confident traction all year round and across all terrains, light snow included.
Some highlight worth mentioning:
The compounds, molded symmetrically, feature stable shoulder blocks for more confident road handling in both wet and dry conditions.
Four grooves evacuate slush and water to boost wintry/wet-condition traction.
Multiple sipes create extra biting edges that deliver better footholds in snowy conditions.
Double steel belts and polyester cords comprise the internal structure, combining durability and strength with smoother rides.
Goodyear Assurance All-Season Review & Performance Test Results
Selected as a contender for our 2023 COR Wheels Tire Test, Goodyear Assurance All-Season (the 215/60R16 tire size version) has been test-ridden on the 2018 Toyota Camry for ten days in June-July and another short period around January.
1. Dry Performance: 7.7/10
Dry Traction: 7.9/10
Despite the brand's claim, Goodyear Assurance All-Season fails to impress.
To clarify, this tire handled road pavements decently in predictable strikes on regular smooth asphalts. It did not do a half-bad job veering around non-challenging roadblocks (such as pebbles near construction sites or light motorbikes), either.
However, any slightest signal of dynamic maneuvers or inconsistent road textures sent the car straight into back-to-back stutters, which only worsened as our accelerations revved stronger towards the 55-MPH benchmark. Needless to say, highway trips or deeper dives into rugged mountain passes will be quite a challenge if you are a beginner and lack the required physique for capable skid corrections.
Load handling was also not considered the tire's best highlight, judging by how the slippage and hiccups occurred in shorter intervals when our sedan was packed full with 5 passengers. It seemed the vehicle composed itself better on the road with 3 to 4 extra people (minus the driver) throughout most of the ride.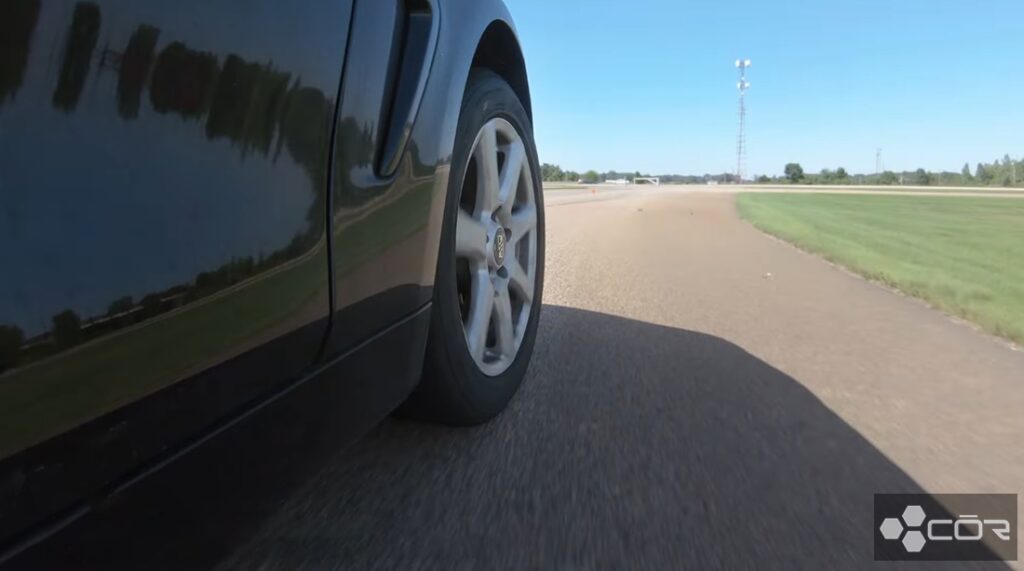 Corner Stability: 7.4/10
We rarely felt settled during our cornering attempts, even at gentle, sweeping wide-radius crooks. The stable on-center ribs found in other Goodyear tires were rather lacking with this model, resulting in faint but frequent wavers despite our low-key inputs and very cautious maneuvers. Blind curves or tight hairpins were even worse, almost lurking the car forwards if we had not reacted on time with punctual countersteering.
All in all, while the tire was still rideable, this severe absence of controlled cornering manners made it quite difficult to launch into extended family trips through less well-built roads. If you still intend to do so, remember to avoid accelerations and tight corners with limited sight lines at all costs.
Steering Response: 7.6/10
Goodyear Assurance reached its peak steering behavior when delivering less than 35 MPH.
Sure, each feedback was still stripped of the high-quality sharpness and punctuality seen in other Goodyear tires, but at least we could feel its attempt to stay aligned to road pavements and our initial steering inputs. Guaranteed no abrupt turns or unannounced skids towards the opposite direction, you could actually trust Goodyear Assurance to carry our sedan as far as 10 to 15 miles in a go.
Any driving rate beyond 35 MPH, though, and you will see the steering response get mushier and more distant. During carousels or zigzag strikes, burnout symptoms grew so pronounced we had to pull over for a good 30-minute rest before resuming the test.
2. Wet Performance: 6.4/10
Wet Traction: 6.3/10
Despite the very little competition in the market, Goodyear Assurance still ranks last on the list with horrible footing during very light rain. Skitters happened very often while lacking the required predictability to compensate for the absence of wet traction; hence, taking a dive into corners or sweeping 180 degrees to correct skids will be almost 100% impossible for you.
And once the heavy rainfall increased its intensity, even straight-line driving beyond 20 MPH posed tons of difficulties, too. Goodyear Assurance only seemed to cope decently on lightly slippery surfaces post-rain or shallow puddles drying under the hot summer temperatures.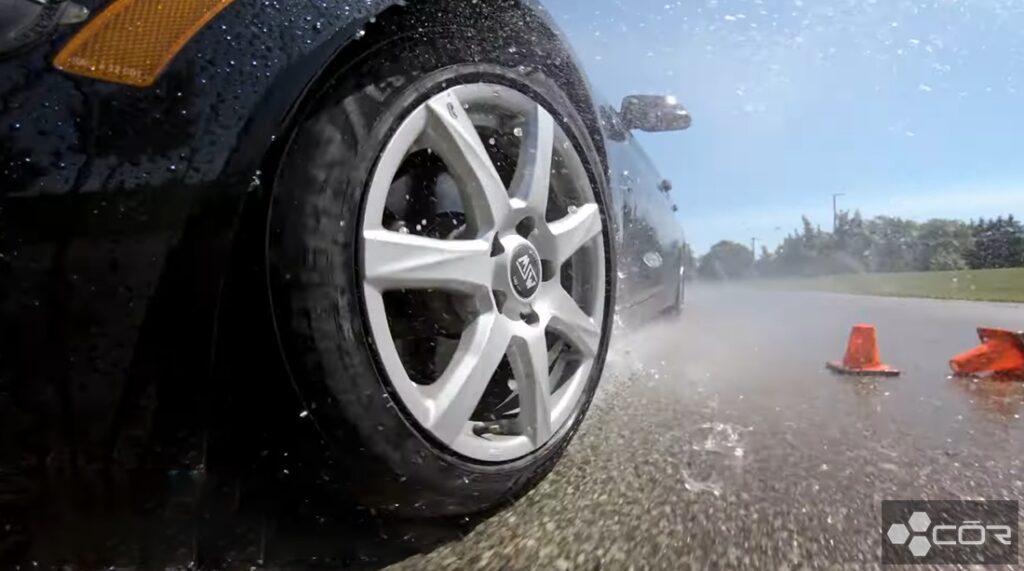 Hydroplaning Resistance: 6.6/10
The tire's wide grooves only delivered half of their advertised power delivery, already caving into themselves when the first drops of drizzling rainwater below 2 inches deep seeped under the sipes. Aided by the compound's horrible compatibility with cold ambient temperatures, high-speed choking can be expected no matter how seasoned you are.
Rainwater aside, Goodyear Assurance also held its ground badly on light snowmelt or fog condenses. It jerked violently with serious aquaplaning whenever we flicked our wrists to merge or part lanes, taking half a minute to recover while other tires only took seconds.
So if you really have to travel across cold, wet weather with this tire, drive as slowly as possible, and do not load the car with heavy cargo or more than 2 passengers.
3. Winter/Snow Performance: 5.1/10
Light Snow Traction: 6/10
The tire already fumbled on light snowmelt, so it was unsurprising that its performance was downgraded to the lowest traction point here. Steering response grew so muted that we could barely feel its presence in critical reversing or lane merging situations; worse, as the powdered snow got colder with the weather, stalls mid-way became a frequent incident that no amount of controlled countersteering or shuffles could get rid of.
Goodyear Assurance still outperformed its sibling Goodyear Assurance Fuel Max on light snow due to the quicker recovery from oversteering, but that can hardly be considered a good upside. In these cases, just stick to winter tires instead.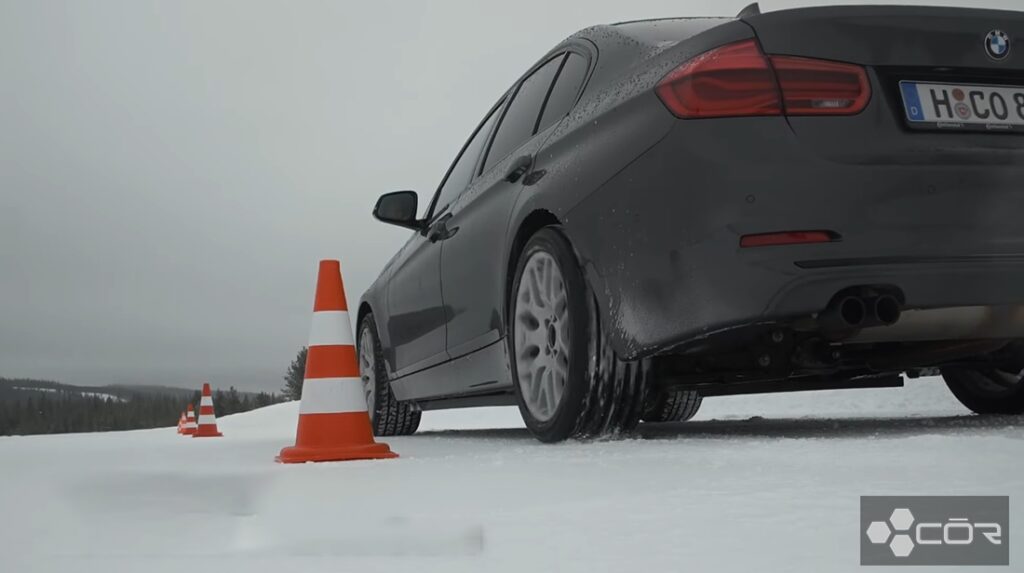 Deep Snow Traction: 5/10
We equipped our Toyota with sturdy snow chains on all four tires right from the beginning, but even that could not keep the tire's violent coughs at bay.
Drifting started to lurk around after just one mile and became more frequent the longer we rode, tripping over thin air and taking minutes to recover from the traction loss. Accidents could happen at any time, hence our decision to stop the ride short after five miles.
Removing passengers down the way did not help us much in regaining steering edges, either: the tire remained heavy and dragging the entire time. Hence, only use Goodyear Assurance for deep snow endeavors if they are shorter than our test (about 3-4 miles would be the safest).
Ice Traction: 4.3/10
Taking our test on empty, icy roads with driving rates as slow as 10 MPH was not enough to guarantee safety; the car shuddered horribly like it could plummet anytime.
Driving without passengers or cargo, our driver reported having maintained slightly more stable footholds around sweeping curves and straight roads, though not entirely without shaking ribs.
And on another note, Goodyear Assurance was somewhat rideable on melting ice and snow (with more snow than ice) mid-spring – though this can hardly be regarded as an upside, considering that it is the bare minimum almost every other Goodyear tire can achieve.
4. Comfort: 6.7/10
Ride Quality: 6.9/10
There was not much to praise about Goodyear Assurance's riding comfort. The way it retained decent footings on extreme asphalt heat was quite surprising considering the compound's simple design, but that was it. Other than that, jostles and vibrations could be found every step of the way; the higher the speed, the more protruding they became for us.
Sure, full-on aftermarket upgrades to the car itself could significantly boost the tire's riding quality. The problem is that they usually cost even more than purchases of entirely new tire sets; just consider choosing another Goodyear model at that point.
Noise: 6.4/10
Noise control was not any better, if not worse.
The only time Goodyear Assurance seemed quieter than most was during its gentle pull to a full stop as our car arrived at its destination. Otherwise, as long as the vehicle was in full operation mode, loud squeaking and screeching could always be heard from the cabin – hardly bearable even if you are not noise-sensitive.
5. Treadwear and Durability: 6.4/10
The tread did not show immediate fatigue on hot roads, but we could feel them getting fainter after the fifth day of testing. Reactions on cold snow and water, as mentioned above, were also far from stellar due to the too-frequent stalls and freezes.
Fortunately, the generous 65,000-mile warranty kind of made up for the significantly lackluster tread life; you should receive full manufacturer support regarding shredding problems during the first six years.
Goodyear Assurance All-Season Pros & Cons
Working well with low speeds (35 MPH or lower)
Decent composure in regular dry-road conditions
Generous warranty (65,000 miles)
Mediocre to bad traction on every on-road terrain
Bad riding comfort and treadwear rates
The price range could be better
Goodyear Assurance All-Season Competitors & Alternative
Goodyear Assurance All-Season is not exactly the brightest performer on-road. However, it still has certain competitive edges over rivals like Firestone Champion Fuel Fighter, General AltiMAX RT43, and Kumho Solus TA11:
Goodyear Assurance could deliver peak linear steering at 35 MPH or lower. However, every other metric needed significant boosts.
Firestone Champion had respectable wet-surface confidence and controlled road noises well. There was still room for improvement regarding its snow traction and steering feel, though.
General AltiMAX composed itself excellently on slippery surfaces (snowed and snowless ones alike), but the constant tread rumbles were admittedly annoying.
Kumho Solus led the competition with responsive, almost eager handling on most street types, snow roads included. Still, we would love to see less rough low-speed rolls over large road impacts.
Conclusion
To sum up this Goodyear Assurance All-Season tire review, it could retain more or less average confidence in most low-speed endeavors, but it is hard to spot any other strong features worth highlighting. Hence, this all-season tire model will work best in dry, warm summer weather with short traveling distances and moderate/scarce traffic.
Goodyear Assurance All-Season
PRICE
SOLD BY

Offers

In Stock

Offers

In Stock

Offers

In Stock

Offers

In Stock

Offers

In Stock
---
President & Automotive Expert at COR Wheels
Robert Herrera has been with COR Wheels for 17 years and has a great passion for the automotive industry. During his time at COR Wheels, he has driven and test-driven a variety of vehicles.
---