Despite sharing the Michelin origin, there has been a reportedly significant discrepancy between CrossClimate2 and Primacy MXM4. The former still holds the crown as Michelin's best tire, while Primacy MXM4 seemed to garner mixed feedback regarding certain aspects.
Our review will delve further into MXM4's real-life performances across diverse on-road terrains.
In this article:
Michelin Primacy MXM4 Specifications & Features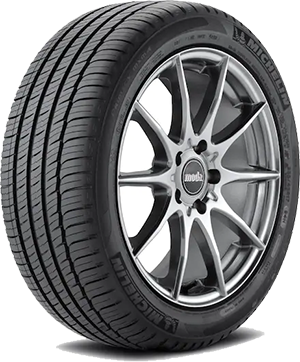 Tire Type
Grand Touring All-Season
Tire Size
16″ – 20″
Weight
15.0 LBS – 28.0 LBS
Load Index
87 – 110
Load Range
SL – XL
Speed Rating
– H: up to 130 mph
– W: up to 168 mph
Warranty
30,000 – 55,000 miles
Ratings
7.5/10
Michelin Primacy MXM4 is for cope and luxury sedan drivers seeking all-year traction and handling with good riding comfort/noise control, even on light snow. The tire also meets Green X standards regarding rolling resistance and eco-manufacturing. 
The patented Helio Tread Compound, enriched with sunflower oil, increases low-temperature traction, wet handling/braking, and overall snow performance.
Its asymmetric tread patterns feature round shoulders, providing predictable yet progressive strikes around corners.
Circumferential grooves whisk water off the footprint to minimize hydroplaning.
The 3D Variable thickness sipes offer more edges during wintertime and wet conditions.
Noises and vibrations are reduced via the brand's Comfort Control Technology and computer-optimized designs.
Double steel belts, strengthened by BAZ polyamide cords, stabilize the tread design to enhance higher-speed capability, handling, and treadwear rates.
Polyester cord bodies promote comfortable rides.
Michelin Primacy MXM4 Review & Performance Test Results
As part of the 2023 COR Wheels Tire Test, we used the 205/55R16 tire size version of Michelin Primacy MXM4 on the 2019 Ford Focus car model.
1. Dry Performance: 8.5/10
Dry Traction: 8.7/10
While certainly not as good as its CrossClimate 2 in this regard, Primacy MXM4 impressed us regardless with its sharp and stable contact points, leaving little room for safety-compromising shudders.
The sidewalls and asphalt road patterns bonded tight and startlingly fast, which supported us to rev up to 55 MPH after just five minutes and maintain a decently consistent driving rate for the first hour or two.
You can trust the tire to deliver well in any situation otherwise: retaining almost the same confidence as on regular streets, MXM4 refilled traction loss with exceptionally clean cuts and knew where to stretch its tirewall flex limits to balance adventures and safety.
When entering rugged mountain passes, higher speed ratings beyond 55 MPH definitely needed to be tamed, though our attempts to maintain good momentum across tighter turns remained non-dramatic at any number below that. Better yet, given that the extra weight did not cross the 150-lb benchmark, towing and loading tasks were entirely within reach.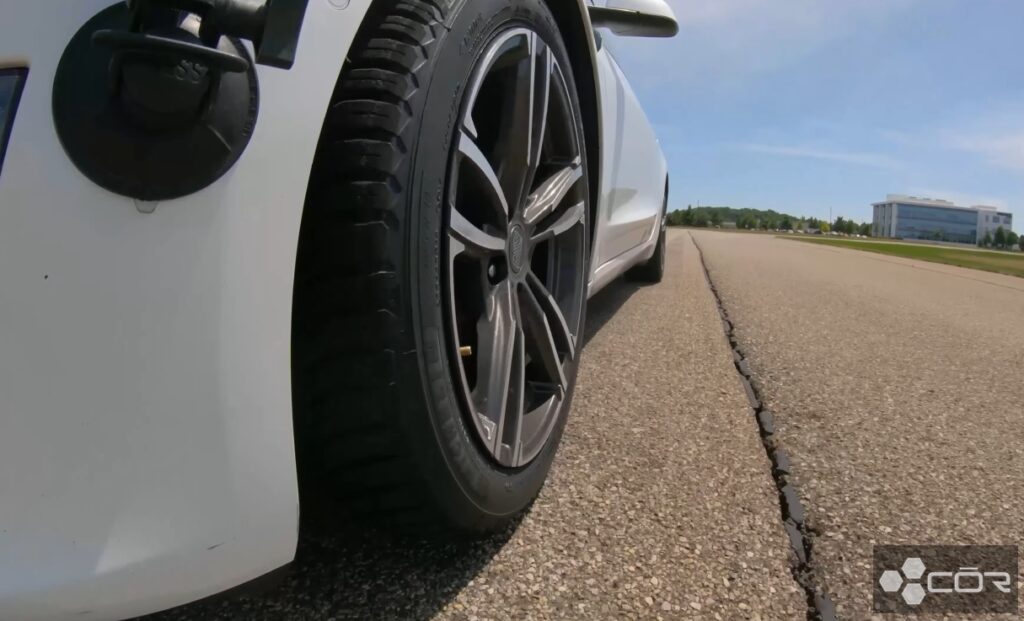 Corner Stability: 8.4/10
MXM4 was quite a good performer around corners. The on-center rib was solid and stable from beginning to end, handling mid-way changes and oversteering better than expected, and left enough margin to fall into whenever the inner liners were not completely aligned with each other.
Overtaking vehicles was smooth and non-dangerous, even twice breezier when we alternated between slight alterations and strong push-pull. On highways, MXM4 was usually not on its best behaviors around extended curves, whose grooves and sipes started to show obvious symptoms of drifting in 20-30 minutes.
Also, zigzag switchbacks and extremely tight-necked hairpins did need to be handled with better strategies. Indeed, while MXM4 remained safe during most of these encounters, the way it shakily dived into the approach left our beginner members unsettled. You should also exert more caution with hard brakings and abrupt accelerations, both of which choked MXM4 out of the cornering track more often than not.
Steering Response: 8.4/10
Our team was particularly satisfied with MXM4's responsive steering across casual rides. The tire-road connections were punctual and aligned most of the time (except for brief slippage through unplanned 180-degree turns) and managed to keep muted/extended delays at a minimum thanks to the round shoulders and optimized footprint. The sunflower oil blended into the compounds also paved the way for sleeker, immediate responses between input updates.
On another note, these behaviors seemed to peak on regular roads at moderate speeds; you should not expect spirited steering through highway curves and at highway limits. The nearer we got to 80 MPH, the fainter the steering became, only getting slightly better when we pulled over after every 30 minutes.
2. Wet Performance: 8.2/10
Wet Traction: 8.2/10
MXM4 composed itself decently on slippery roads and shallow water, though not without stutters and panics. Our experienced members could easily tame them down using better-grinding force at higher speeds, but if you are a beginner, it would be better to keep the car civilized under 55 MPH.
Deep water beyond 5 inches was surprisingly not that much of a problem if the driving rates were low without abrupt changes. Indeed, when slowed down to 25-30 MPH (and only alternating among numbers within this range), we could almost regain all the tire's previous dry edges. Otherwise, numbers beyond 30 MPH tended to send our Ford into frequent jostles around corners and through zigzag switchbacks.
Slippery surfaces like bridges and slopes were not dangerous – but by no means a good place to attempt anything adventurous. Due to the significantly wavering ribs and lack of contact point stability, we had to keep the steering wheel relatively unchanged until the danger zone was over.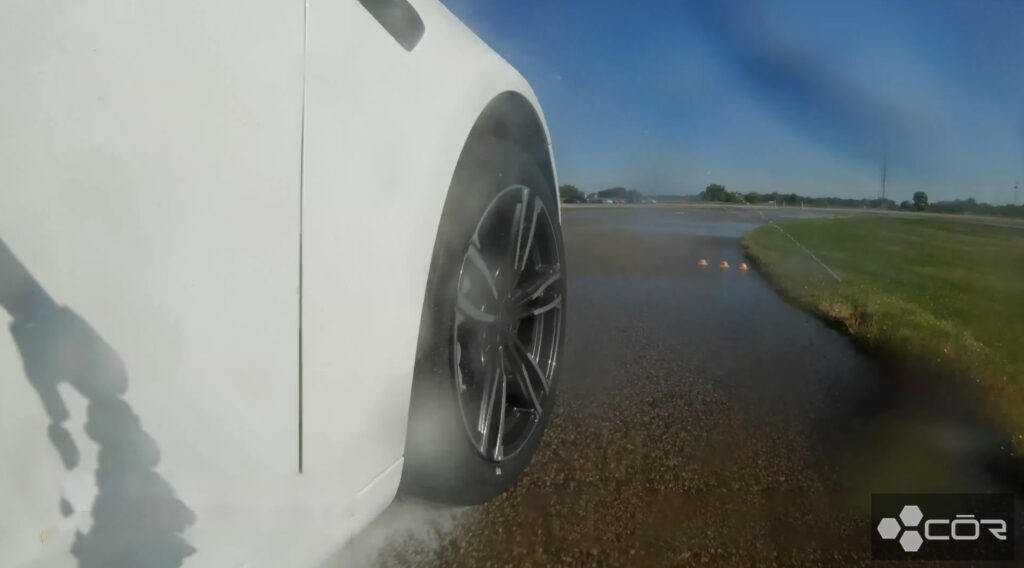 Hydroplaning Resistance: 8.2/10
MXM4 whisked water pretty well regardless of water depth (guaranteed it was stagnant). 40-50 MPH was the best speed rate for moderate water below 4 inches, while 25-30 MPH worked best for deeper water than 4 inches; the circumferential grooves did a pretty good job adapting accordingly to our input and redistributing water through varied channel sipes.
On another note, flowing water or travel mid-rain was not exactly tailored for MXM4's design, evident in the heavy tire drags that still lingered hours into roads. You will also clearly have lots of trouble towing anything beyond 90 lbs towards highways or around low-radius crooks.
3. Winter/Snow Performance: 5.5/10
Light Snow Traction: 6.5/10
Despite the brand's promises about MXM4's light snow traction, our car plummeted after just the first few bites and seemed unable to fully recover itself then. The stutters were only somewhat tolerable at 10 to 15 MPH and worsened at every other driving rate otherwise, tripping over thin air on straight-line roads and shaking violently through wide corners.
Needless to say, intentional oversteering and late braking was dangerous, if not downright impossible in harsh weather; you will have to use snow chains for such occasions, even though they only help to a certain degree and can not completely get rid of the panic reaction around the flank.
On a brighter note, MXM4 regained some of its usual edges when we removed all passengers. Plus, with stronger wheels (part of our aftermarket upgrades), MXM4's clawing actions did grow more transparent and stable the longer we rode.
Deep Snow Traction: 5.2/10
Given the tire's extremely weak traction on light snow, its downfall on deeper snowy roads was only to be expected: after only half an hour, its contact points already grew so muted that we could not advance any further without using extra-thick snow chains on all four tires.
Revving to 20 MPH is still somewhat doable, but only when you have the right physique for the tire; otherwise, 8-9 MPH seemed to be the best driving range to keep horrid slippages at bay.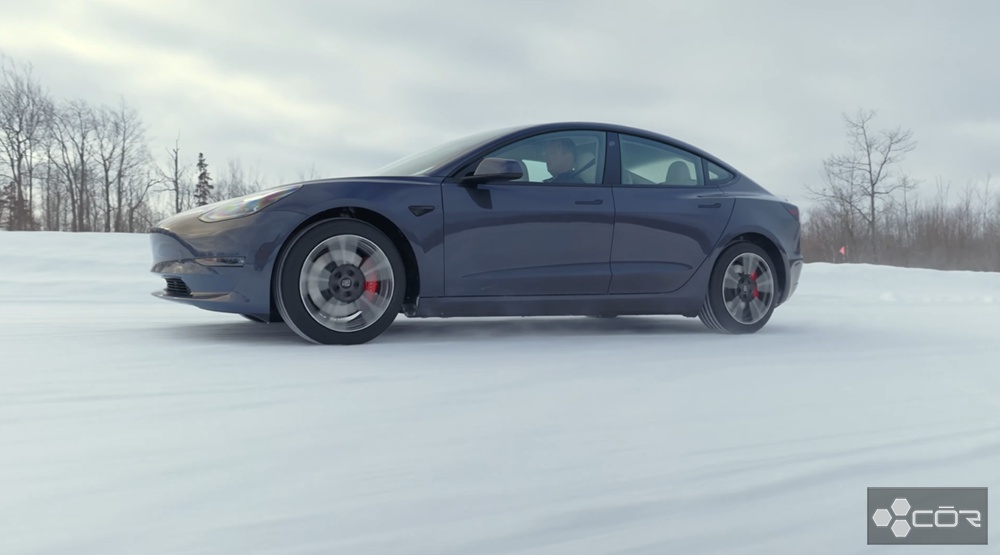 Ice Traction: 4.9/10
Our rides had to stop short after 2 miles due to the uncontrollable gliding, so MXM4 was clearly not meant for extended trips on ice terrains. We could still deal with moderate ice buildups on snowmelts or well-paved light snow, though, meaning you should be able to use this tire well if the ice is only a minor part of the entire road section.
4. Comfort: 8.1/10
Ride Quality: 8.3/10
The tire still gave off ominous shakes across steep slopes and esses. Fortunately, it still left little to worry about when we removed our cargo and retained casual driving approaches at 35 to 40 MPH. During winter, snow chains will also do a great job minimizing the vibration risks to a certain extent for you on well-paved paths.
Noise: 7.9/10
The noises were controllable and tolerable most of the time – continuously present but rarely getting borderline intrusive. However, brace yourself for increased noise volumes during wintertime and wet season: the grooves still needed a lot of refinements regarding hydroplaning resistance, which resulted in constant water squeaking that was hard to tune out.
5. Treadwear and Durability: 7/10
MXM4 was excellently composed during most summer days (save for mid-July overheating when the temperatures surged past 75 degrees F). Its 55,000-mile warranty is also considered a good deal compared to other tires on the market.
Unfortunately, its disastrous internal strength against cold rain and snow took away most of the points. After only two days into our January testing, the stalled steering feedback already became increasingly obvious, dragging down our wintertime traction for the rest of the rides.
MXM4 Pros & Cons
Excellent grip on dry surfaces
Reliable cornering/steering in most basic driving situations
Pretty confident on wet road surfaces
Fairly smooth rides with acceptable road noises
55,000-mile treadwear warranty
Hydroplaning still occurs
Disastrous wintertime traction
Disappointing treadwear rates
MXM4 Competitors & Alternatives
Since it was a Michelin tire at the end of the day, Primacy MXM4 still held some edges over competitors like Continental ContiProContact and Goodyear Assurance ComforTred Touring:
Michelin Primacy MXM4 had pretty decent road manners and composed itself well on wet roads. Nevertheless, its horrid snow performances need to be addressed.
Continental ContiProContact had an impressive dry grip but left a lot of room for improvements in wet grip and impact handling.
Goodyear ComforTred Touring delivered good steering responses – though, like Continental ContiProContact, this tire was not the best on wet roads.
Conclusion
The tire proved reliable on dry roads and did not lose all its confidence during wet weather in our Michelin Primacy MXM4 reviews.
Nevertheless, for a tire from Michelin, its winter traction and treadwear rates were admittedly disappointing. It would be best to use this all-season tire on regular roads, stagnant water (at low driving rates), and occasional highways.
Michelin Primacy MXM4
PRICE
SOLD BY

Offers

In Stock

Offers

In Stock

Offers

In Stock

Offers

In Stock

Offers

In Stock
---
President & Automotive Expert at COR Wheels
Robert Herrera has been with COR Wheels for 17 years and has a great passion for the automotive industry. During his time at COR Wheels, he has driven and test-driven a variety of vehicles.
---