Toyo was not exactly known for high-quality grand touring tires. Still, some of its models, particularly the Extensa A/S II, manage to worm into the best-seller rankings for a good reason. Most casual drivers have positive reviews regarding the tire's steering, traction, and road manner, which reportedly suffice for basic rides and non-spirited techniques.
A more detailed tire review will be included in the following sections.
In this article:
Toyo Extensa A/S II Specifications & Features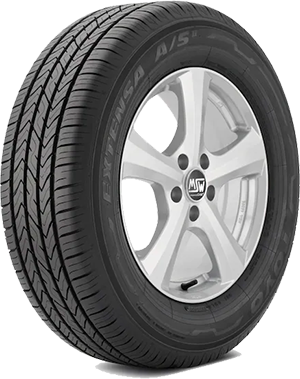 Tire Type
Grand Touring All-Season
Tire Size
14″ – 20″
Weight
7.0 LBS – 35.0 LBS
Load Index
82 – 110
Load Range
SL – XL
Speed Rating
– H: up to 130 mph
– V: up to 149 mph
Warranty
65,000 – 75,000 miles
Ratings
8.6/10
Toyo Extensa A/S II is developed for minivans, SUVs, light trucks, CUVs, and passenger cars, promising optimal tread life and well-balanced riding comfort through the following features:
The silica tread compounds, symmetrically molded, feature three-rib designs to foster reliable handling on dry surfaces.
Zigzag voids and circumferential grooves evacuate water off the shoulder slot, minimizing hydroplaning issues.
Multi-wave sipes support stable footings in slippery/wet weather.
Double steel belts, 2-ply polyester casings, and nylon reinforcements provide durability and higher-speed handling.
Toyo Extensa A/S II Review & Performance Test Results
In our 2023 COR Wheels Tire Test, the 215/60R16 tire size version was installed on the 2019 Toyota Camry in January and June-July (ten days).
1. Dry Performance
Dry Traction
Extensa gripped well on regular roads, though not with as much punctual sharpness as often seen in premium grand touring models. After a few initial shakes, the tire finally settled in the road pavements in decent strikes – and hence, breezed our car through roadblocks and slightly more rugged pavement grooves at 40 MPH quite uneventfully. 
Occasional stutters still lurked around but were generally well-tamed at regular driving rates (below 55 MPH), posing little to no danger during straight-line endeavors or gentle texture transitions.
On another note, you should not expect brilliant traction maintenance on fast-paced highway rides or mountain passes. It was clear the grooves and sipes were only meant for moderate power deliveries, which explained why the sidewalls burnt out quite fast at extended curves and took a long time to recover from drifting after we engaged in wide-angle correction skids. Towing also seemed to have undesired effects on the patch's footings – unless kept below 450 lbs.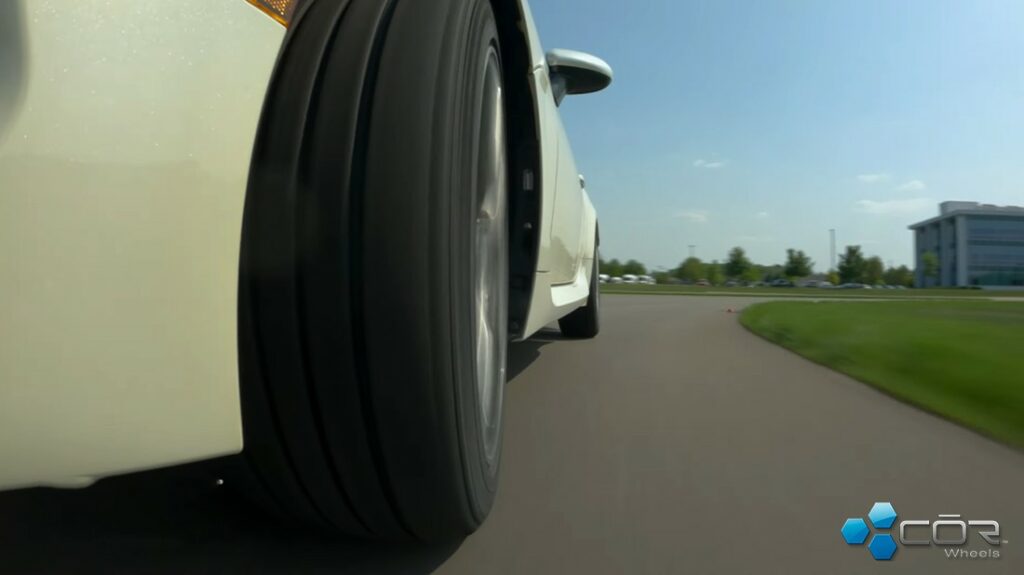 Corner Stability
Like with our straight-line attempts, Extensa A/S II reached its peak behaviors at gentle, wide-corner approaches. If well prepared, its confident tire flex barely experienced any decrease, managing decent momentum from corner entries to exits (with occasional changes thrown in between). Abrupt speed changes around these crooks also proved a non-issue, evident in the stable, solid on-center feel that could easily be identified from within our cabin.
Nevertheless, deep dives into tight-radius corners were not exactly bonding well with Extensa A/S II due to the unpredictable shakes around the flanks – and once corner entries were messed up, it was hard to recover from them for the rest of the strike. So, if you are a beginner, approach them as slowly as possible (preferably at driving rates below 25 MPH) and use strong downshifts when necessary.
Steering Response
A/S II was quite consistent with its steering. While their feedback did not always align with our inputs (especially around rough corners or graded highway surfaces), extreme delays were still quite rare, leaving enough margins for us to deal with unexpected roadblocks, slippage at entries, or abrupt lane merges. Removing cargo and passengers also did a decent job of increasing the footprint's optimization against the road, further boosting the tire's steering decency.
High speeds beyond 55 MPH seemed to strip Extensa A/S II of some steering edges. Still, frankly, that was to be expected for most mid-range grand touring tires in the market, so you can be confident nothing really goes out of line.
2. Wet Performance
Wet Traction
Our car could handle shallow or light puddles quite well – given the well-placed grooves and generous void ratio. Even slightly deeper water (2 to 4 inches) did not pose as much trouble as expected, especially when we kept things civilized below 35 MPH while avoiding unplanned dives around tight corners.
Unsurprisingly, dynamic road manners or heightened water depth were where Extensa A/S II fumbled.  The great news is that none of the stutters and panics were truly dangerous, but you should not expect a smooth, bumpless ride around these sections. Towing tasks must also be laid low to avoid accidents, preferably below 200 lbs.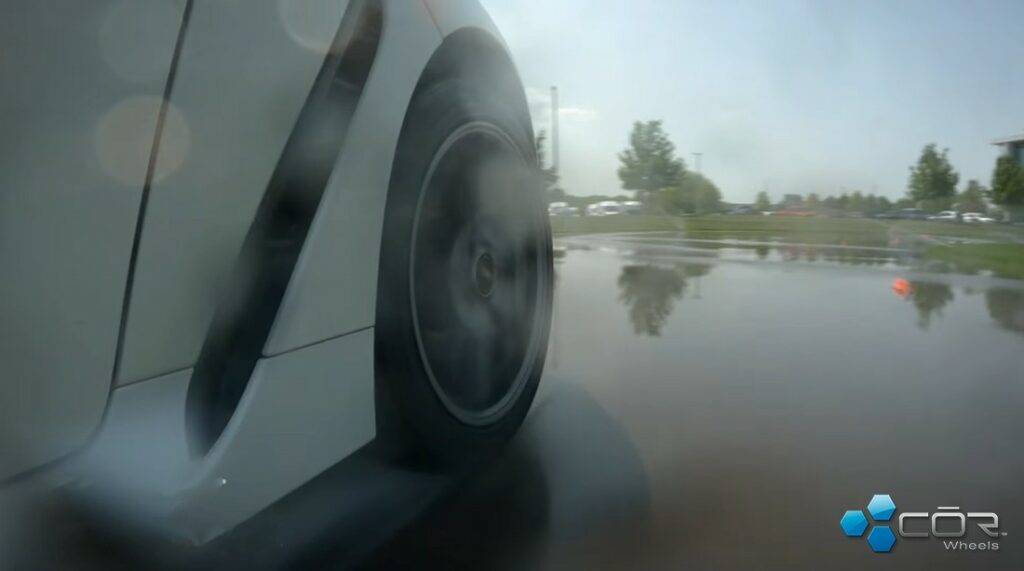 Hydroplaning Resistance
Hydroplaning resistance was not exactly exceptional, but managed to tick most of our boxes. With all cargo unloaded and driving rates not exceeding 45 MPH, Extensa's water-evacuation channels did a very stable job redistributing water layers under the sidewalls. Around wide, gentle corners and well-paved roads, we almost felt like returning to regular dry streets due to the absence of heavy tire drags.
Nevertheless, Extensa still needs some refinement in deep water; the increased water volume made the grooves and sipes cave in faster than we would have liked. You will also find cornering attempts quite challenging, as the tire rolls keep getting deterred due to the intrusive rainwater within the tread blocks.
3. Winter/Snow Performance
Light Snow Traction
Extensa A/S II, of course, could not compete with a winter tire or even some higher-quality touring models. But its composure on light snow was generally favorable, with decent clawing actions most of the time and more or less stable on-center feel when diving into corners.
We also loved how accelerations and decelerations did not choke the tire off its momentum as dramatically as some other Toyo tires, which paved the way for smooth, uneventful mid-way changes if well-prepared.
When equipped with snow chains, Extensa witnessed a significant traction increase on highways and during steep climbs. Burnout symptoms at extended curves could not be 100% eliminated but were tame enough for casual rides; you can totally use it as a temporary winter tire.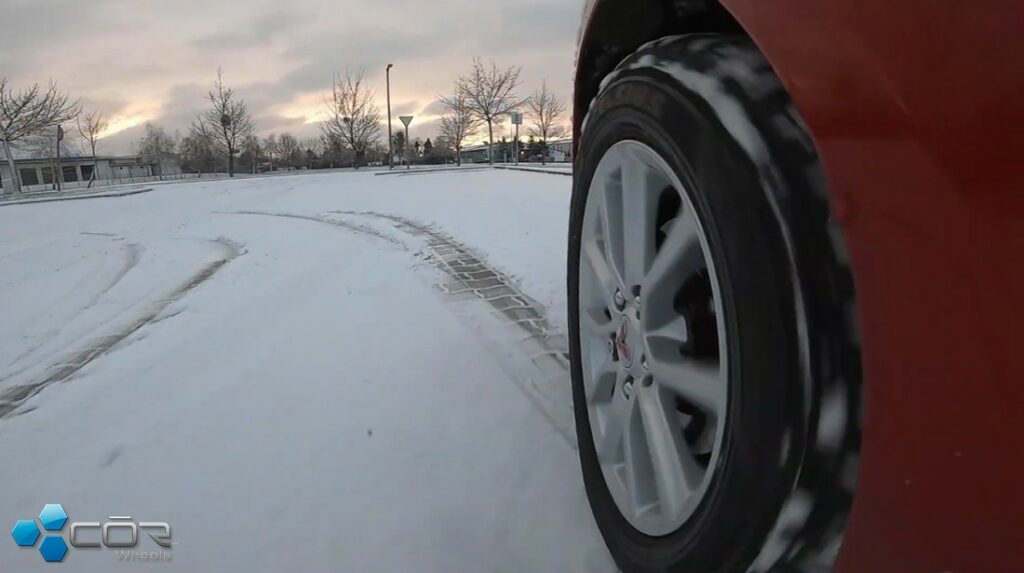 Deep Snow Traction
While Extensa was still rideable, the tire was far from being considered a decent performer. Lackluster traction maintenance and frequent coughs could be spotted at any slightly more angled turn, and the way it handled unexpected veerings and hard brakings against roadblocks was also disappointing, downright dangerous if we loaded more than 250 lbs into the roads.
On a slightly brighter note, using snow chains on all four tires did stabilize Extensa's contact patch to a certain extent, ensuring no over- and under-reactions went beyond control. You will also find the tire to perform surprisingly well across slope descents, rarely sending itself down the plummet unless the steering wheel slackens.
Ice Traction
5 miles was the furthest distance we could attempt with Extensa A/S II – and even then, the violent shakes and shudders were discouraging enough that we avoided revving up to 25 MPH at all costs. All types of corners (whether wide- or low-radius) posed immense risks of oversteering, and the tire also took much longer than usual to recover from temporary stalls as the temperature got colder.
Hence, avoiding these terrains altogether is the best move; but if that is not affordable for you, at least remember to steer clear of twisty roads and keep your towing/loading at a minimum.
4. Ride Comfort
Riding Quality
Though we still preferred more subtlety in wet and snow conditions, Extensa A/S II was well-behaved once we returned to dry paved streets.
Jostles and vibrations were mostly non-existent in straight-line endeavors and somewhat tolerable during accelerations or corner dives, further improved when we swapped the factory-distributed wheel with an aftermarket version. You can also engage in gentle/moderate brakings under emergencies without the car lunging violently forward.
Noise Control
Noises are definitely to be expected around corners and at high-speed ratings, which even got twice more deafening as we used strong push-pull techniques to sidestep roadblocks. Fortunately, casual driving rates on non-twisty roads were quite comfortable, producing some audible murmurings at best upon small rocks and debris.
5. Treadwear and Durability
Temperature extremes did take a toll on the tire's internal belts, but were not enough to sabotage our ride or cause significant shredding on the tread. The tire stayed mostly intact after our rides as a result; plus, given the 75,000-mile warranty, there is no reason to worry about tread issues for the first five/six years after your tire purchase.
Toyo Extensa A/S II Pros & Cons
Decent dry traction
Reliable steering in dry conditions
Tolerable on light snow
75,000-mile treadwear warranty
Fairly comfortable rides on regular roads with acceptable road noises
Wet-road traction could have been better
Struggling on deep snow and ice
Conclusion
From our Toyo Extensa A/S II tire review, it still struggles to deal with dynamic/spirited rides. But for casual attempts on straight roads or low-speed traveling, its stable grooves and sipes more than suffice.
Thus, you can use this all-season tire in most non-challenging driving situations on-road and occasional light snow. Avoid deep snow and ice if possible.
Toyo Extensa AS II
PRICE
SOLD BY

Offers

In Stock

Offers

In Stock

Offers

In Stock

Offers

In Stock

Offers

In Stock
---
President & Automotive Expert at COR Wheels
Robert Herrera has been with COR Wheels for 17 years and has a great passion for the automotive industry. During his time at COR Wheels, he has driven and test-driven a variety of vehicles.
---