When it comes to tires, tires made in America are often associated with quality, reliability, and performance, giving users peace of mind.
Let's delve into the benefits of these tires, explore some popular brands, and provide valuable insights to help you make informed decisions when selecting the right tires for your vehicle.
In this article:
What Tires Are Made In The USA?
American tire companies are numerous, with many world-famous names like Bridgestone, Michelin, Firestone, Goodyear, Cooper, Continental, BFGoodrich, Yokohama, etc. Only Goodyear and Cooper and genuine American ones; the rest just have America-based factories.
1. Bridgestone

Bridgestone is a renowned tire brand that proudly manufactures its products in the USA. With a strong presence and several manufacturing facilities across the country, Bridgestone exemplifies American quality and craftsmanship.
The brand's American-made tires are highly regarded for their exceptional performance, durability, and innovative features. Their comfort and quietness are especially well-favored among drivers.
As strong as it is, Bridgestone still consistently invests in research and development to push the boundaries of tire technology, resulting in products that offer superior traction, precise handling, and enhanced safety.
US Plant Codes
0B, W2, Y2 – Wilson, North Carolina.
1C, HY – Oklahoma City, Oklahoma.
2C, 4D, 5D – Morrison, Tennessee.
2M, 3M – Bloomington, Illinois.
7X, 8X, 9X – Graniteville, South Carolina.
8B, VE, YE, YU – Des Moines, Iowa.
D2, E3, W1, Y7 – Lavergne, Tennessee.
YD – Decatur, Illinois.
Michelin

Michelin is one of the largest tire manufacturers worldwide, second only to Bridgestone. This globally recognized tire brand has a significant manufacturing presence in the United States. The company's commitment to producing high-quality tires applies to all of its American-made products.
Michelin's tires are known for their superior performance, durability, and innovative technologies. With state-of-the-art manufacturing facilities across the country, Michelin combines cutting-edge research and development with stringent quality control to deliver tires that excel in safety, fuel efficiency, and overall driving experience.
B6 – Spartanburg, South Carolina.
B7 – Dothan, Alabama.
B9 – Lexington, South Carolina.
4M, M3 – Greenville, South Carolina.
2. Firestone

With a rich history, Firestone is a case in point of high-quality and reliable tires in the American market. The brand's American-made tires are highly regarded for their performance, durability, and affordability, though not as well-regarded as the two above.
Firestone offers a wide range of tire options to cater to different vehicle types and driving conditions, notably highway and all-season tires. Their American manufacturing facilities ensure strict quality control measures and adhere to industry-leading standards.
When you choose this brand, you can trust you're getting tires that provide excellent traction, responsive handling, and a comfortable ride. Firestone's commitment to quality and value makes them a popular choice for budget-conscious consumers without compromising on performance.
US Plant Codes
AD – Des Moines, Iowa
AE – Akron, Ohio
BE – Decatur, Illinois
BF – Wilson, North Carolina
BG – La Vergne, Tennessee
BK – Oklahoma City, Oklahoma
JU – Jessup, Maryland
S7 – Warren County, Tennessee
3. Goodyear

Goodyear is a real America-based company and has a reputation for producing the most durable tires in the industry. Their use of soybean oil in construction has reinforced the tires and made them more resistant to temperature change. According to Goodyear, the brand will launch out tires with 90% sustainable materials in 2023 instead of 70% in 2022.
With innovative manufacturing facilities across the United States, Goodyear produces a wide range of tires for various vehicle types, from passenger cars to SUVs and trucks.
These tires are designed with cutting-edge technologies, advanced tread compounds, and superior construction to deliver exceptional traction, handling, and durability. With Goodyear, you can confidently navigate any road condition, knowing you have dependable and high-performing tires supporting you every mile of the way.
US Plant Codes
MB – Akron, Ohio.
MC – Danville, Virginia.
MD – Gadsden, Alabama.
MJ – Topeka, Kansas.
MK – Union City, Tennessee.
MP, PL – Tyler, Texas.
MM, PJ – Fayetteville, North Carolina.
MN – Freeport, Illinois.
M6 – Lawton, Oklahoma.
4. Cooper

It's a miss to not mention Cooper Tires – a principal player in the tire-manufacturing industry in America, lauded for their craftsmanship and quality. As mentioned, this is one of the genuine American tire manufactures to date.
More than a century of development has led Cooper to the pinnacle of tire engineering, becoming a giant who sets standards for the whole industry.
From high-performance tires to all-terrain and winter tires, Cooper offers a diverse lineup that caters to various vehicle types and driving preferences. Each tire is meticulously crafted with advanced tread designs, cutting-edge materials, and rigorous testing, ensuring optimal grip, handling, and durability on the road.
That's why the company is confident to offer a 45-day road-tested warranty for all of its tires.
US Plant Codes
UP – Findlay, Ohio.
UT – Texarkana, Arkansas.
U9 – Tupelo, Mississippi.
3D – Albany, Georgia.
5. Continental
Designed with meticulous attention to detail and built using state-of-the-art manufacturing processes, Continental tires promise exceptional braking performance and reliability in both wet and dry conditions
These tires showcase advanced tread designs, innovative rubber compounds, and sophisticated construction, providing superior traction, precise maneuvering, and enhanced longevity.
Whether you're navigating city streets, highways, or challenging terrains, their products deliver a smooth and comfortable ride, excellent braking performance, and optimal grip in various driving conditions.
US Plant Codes
A9 – Bryan, Ohio.
AC – Charlotte, North Carolina.
AD – Mayfield, Kentucky.
6B, A3 – Vernon, Illinois.
VY – South Sumter, South Carolina.
6. Pirelli

Established in Milan in 1872, Pirelli has evolved into a global leader in the production of high-performance tires. It becomes the pioneer in producing high-speed-rated and extra wide tires for optimal grip on all terrains without sacrificing the speeds.
With a relentless commitment to research and development, Pirelli consistently pushes the boundaries of tire engineering to deliver unrivaled performance, safety, and comfort.
Pirelli tires have earned a reputation for delivering exceptional grip, durability, and precision, no matter when you are on the racetrack, city streets, or challenging terrains. This makes them the trusted choice for discerning drivers and riders worldwide.
US Plant Codes
JR – Rome, Georgia.
CH – Hanford, California.
CK – Madison, Tennessee.
7. BFGoodrich

BFGoodrich, an esteemed American tire brand, has established itself as a prominent name in the automotive industry since its inception in 1870. Emphasizing performance and durability, BFGoodrich has been at the forefront of tire innovation for over a century.
All of their tires are subjected to rigorous and extensive internal and independent tests before being rolled out, which has earned it a well-deserved reputation as a leader in the off-road and motorsports sectors.
BFGoodrich tires are renowned for their exceptional traction, rugged construction, and ability to conquer even the most challenging terrains. From the treacherous off-road trails to the high-speed tracks, the brand consistently delivers outstanding performance, reliability, and safety.
US Plant Codes
3T – Pennsylvania
8. Yokohama

Founded in 1917, Yokohama has been considered the cost-effective option for other big names with their exceptional quality and cutting-edge engineering. The foreign tires are designed to deliver outstanding performance across a wide range of driving conditions.
The company's relentless commitment to innovation has resulted in numerous groundbreaking advancements, including the use of advanced materials and proprietary tread designs. Beyond performance, Yokohama is also dedicated to reducing its environmental impact through the development of eco-friendly tire technologies and sustainable manufacturing practices.
US Plant Codes
CC – Salem, Virginia.
9. Kelly-Springfield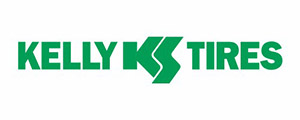 Kelly-Springfield manufactures tires in cities like Tyler, Texas, producing both standard consumer tires and tires for commercial trucks. Although Goodyear owns the business, this brand is still recognizable and well-known in the United States. In order to guarantee that its consumers get what they want, Kelly is giving a 30-day tire test drive.
Backed by extensive research and development, Kelly-Springfield continuously incorporates innovative technologies into its tire manufacturing process to ensure superior performance and longevity. As a brand that values both performance and value, Kelly-Springfield brand remains a reliable choice for drivers.
US Plant Codes
M6 – Springfield, Ohio.
MB – Akron, Ohio.
MC – Danville, Virginia.
MD – Gadsden, Alabama.
10. HOOSIER

With a storied history that spans several decades, Hoosier has become synonymous with high-performance and exceptional grip on the racetrack.
Renowned for their relentless pursuit of perfection, Hoosier tires are the top choice for professional racers and enthusiasts seeking the ultimate edge. From oval track racing to road courses and drag strips, a comprehensive range of tires are designed to excel in each specific discipline.
Meticulously engineered using cutting-edge technology and extensive testing, Hoosier tires deliver unparalleled traction, precise handling, and remarkable durability, allowing drivers to push their vehicles to the limit with confidence.
With a deep-rooted passion for motorsports and a commitment to pushing boundaries, Hoosier continues to dominate the racing scene, leaving an indelible mark on the track and inspiring drivers to reach new levels of performance.
US Plant Codes
J7 – Knox, Indiana.
11. Dick Cepek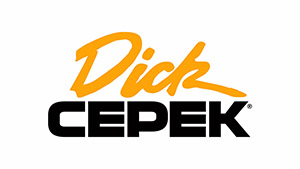 Founded in 1963 by off-road pioneer Dick Cepek, the brand has continuously witnessed breakthroughs regarding off-road innovation. It serves a comprehensive range of tires, wheels, and accessories meticulously designed to withstand the most challenging terrains.
From mud-covered trails to rocky inclines, Dick Cepek tires deliver outstanding grip and reliability, ensuring drivers can push their vehicles to their limits. The brand, with its deep-rooted passion for off-roading, empowers those who seek the ultimate off-road experience to explore new horizons with unwavering confidence and unrivaled performance.
US Plant Codes
UP – Findlay, Ohio.
UT – Texarkana, Arkansas.
U9 – Tupelo, Mississippi.
3D – Albany, Georgia.
How To Identify Tires Made In The USA
American-made tires come with a "made in USA" tag on their sidewalls. If you can't find this, check the first 2 letters in the DOT code, which hints at the country of origin. It will differ among brands, and each brand has various plant codes.
Inspect The Sidewall Markings
Look for specific phrases or markings on the tire's sidewall that indicate it is made in the USA. Check for labels such as "Made in the USA," "Made in America," or "Manufactured in the United States." Keep in mind that not all American-made tires have these explicit markings, so it's important to look for other indicators as well.
Locate The Dot Code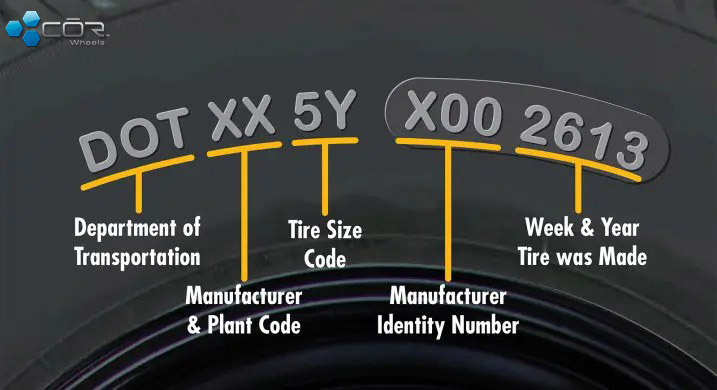 Every tire manufactured in the USA must comply with Department of Transportation (DOT) regulations. 
Find the DOT code on the sidewall, which consists of a series of letters and numbers. The last four digits of the code indicate the tire's manufacturing location.
Research The Tire Manufacturer
Certain tire manufacturers have a significant presence in the United States and produce their tires domestically. Conduct research on the specific tire brand and manufacturer to determine if they have manufacturing facilities in the USA. American companies like Bridgestone, Michelin, Firestone, Goodyear, and Cooper are known for their American manufacturing operations.
Frequently Asked Questions
What Is The Best Tire In The United States?
There are several reputable tire brands that produce high-quality tires in the United States, and determining the best tire depends on various factors, such as the vehicle type, driving conditions, and personal preferences. Some popular tire brands known for their performance and reliability in the United States include Michelin, Bridgestone, Goodyear, and Continental.
Are All Goodyear Tires Made In The United States?
No, not all Goodyear tires are made in the United States. While Goodyear is a genuine American company, they also have manufacturing facilities in other countries around the world. Check the specific tire's labeling or consult the manufacturer's information to determine its country of origin.
What Tire Brands Are Not Made In China?
There are several tire brands that are not made in China. Some well-known tire brands that have manufacturing facilities outside of China include Michelin, Bridgestone, Goodyear, Pirelli, Continental, and Dunlop.
The Bottom Line
Choosing tires made in the USA is a decision that goes beyond just supporting local industries. It means selecting tires that are known for their exceptional quality, reliability, and performance.
Products of American tire companies come with a reputation for stringent manufacturing standards, advanced technologies, and adherence to strict regulations. By opting for tires made in the USA, you contribute to the growth of the local economy and drive with confidence, knowing that you have reliable and trustworthy tires on your vehicle.
See more: