Getting your oil changed regularly is one of the most important things you can do to keep your vehicle running smoothly. And there are countless auto service centers that can help you with this task.
Among them, Valvoline is a popular choice for oil changes, known for its high-quality products and exceptional customer service. But will this shop charge you higher than its rivals? Let's discover the Valvoline oil change price list and what factors can influence the cost of your visit!
In this article:
How Much Does An Oil Change Cost At Valvoline?
Overall, Valvoline oil change prices are competitive and affordable from $39.99 to $89.99, with options available to suit various vehicle needs and budgets.
Standard Oil Change Price
By selecting the right oil change package and adding additional automotive services, you can ensure your vehicle receives the maintenance it needs to perform at its best. Here is the complete dealership price list.
| | |
| --- | --- |
| Type Of Oil | Price |
| Conventional | $39.99 |
| NextGen Conventional | $44.99 |
| MaxLife Synthetic Blend | $59.99 |
| NextGen Full Synthetic | $89.99 |
| Synpower Synthetic | $89.99 |
If you decide to do it yourself, the lowest possible cost is about $20. That would cover the price of the replacement oil filter and the standard engine oil. As you can tell, changing your oil yourself may save you a few dollars, but it also requires more time and effort.
Having Valvoline change your oil ensures that the job is done correctly and efficiently, with the added convenience of not having to do it yourself. Ultimately, choosing between changing your oil yourself or having Valvoline do it comes down to personal preference and budget.
What Is The Cost For Extra Oil At Valvoline?
In terms of the cost of extra oil at Valvoline, it can vary depending on the type of oil and the amount required for your vehicle. Typically, Valvoline charges a per-quart fee for any additional oil needed beyond the standard 5 quarts included in their oil change packages.
The cost of additional oil at Valvoline can range from $5-$9 per quart, depending on the type of oil selected. Here are the details.
Conventional type: $4.99
MaxLife synthetic blend type: $6.99
Full synthetic type: $8.99
Valvoline Oil Change Price vs Its Competitors
As you can see, the Valvoline full synthetic oil change price is quite reasonable. Still, you may wonder how competitive the cost of Valvoline is compared to other providers. Check out the table below for more info. Notice that the prices listed here are for reference only and are subject to change.
Oil Change Price Comparison
Other Services Included When Having Valvoline Oil Change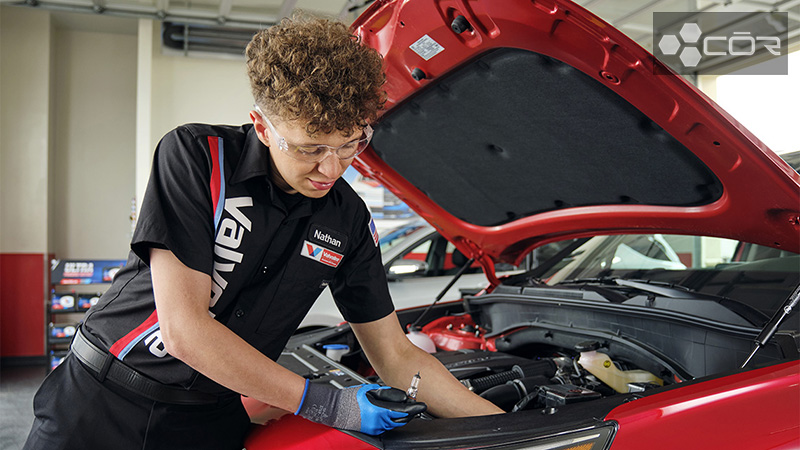 In addition to oil changes, Valvoline offers a range of services to keep your vehicle running smoothly. Some of the most common services include:
Tire rotations: Regularly rotating your tires helps ensure even wear and extends lifespan.
Battery replacements: Valvoline technicians can replace your battery and test your charging system to ensure your vehicle starts reliably.
Wiper blade replacements: Worn wiper blades can impair visibility, and Valvoline can return them to improve safety.
Air filter replacements: A dirty air filter can reduce engine performance and fuel efficiency, and Valvoline can replace it during an oil change.
Fuel system cleaning: Over time, deposits can build up in your fuel system, and Valvoline can perform a cleaning to improve performance.
Transmission fluid exchanges: Valvoline can replace your transmission fluid to help ensure smooth shifting and prevent damage.
Radiator fluid exchanges: Valvoline can replace your coolant to help prevent overheating and engine damage.
Factors Influencing The Cost Of An Oil Change At Valvoline
Some of the most important factors to consider when determining the cost of an oil change include the type of oil, engine size, car type, and location.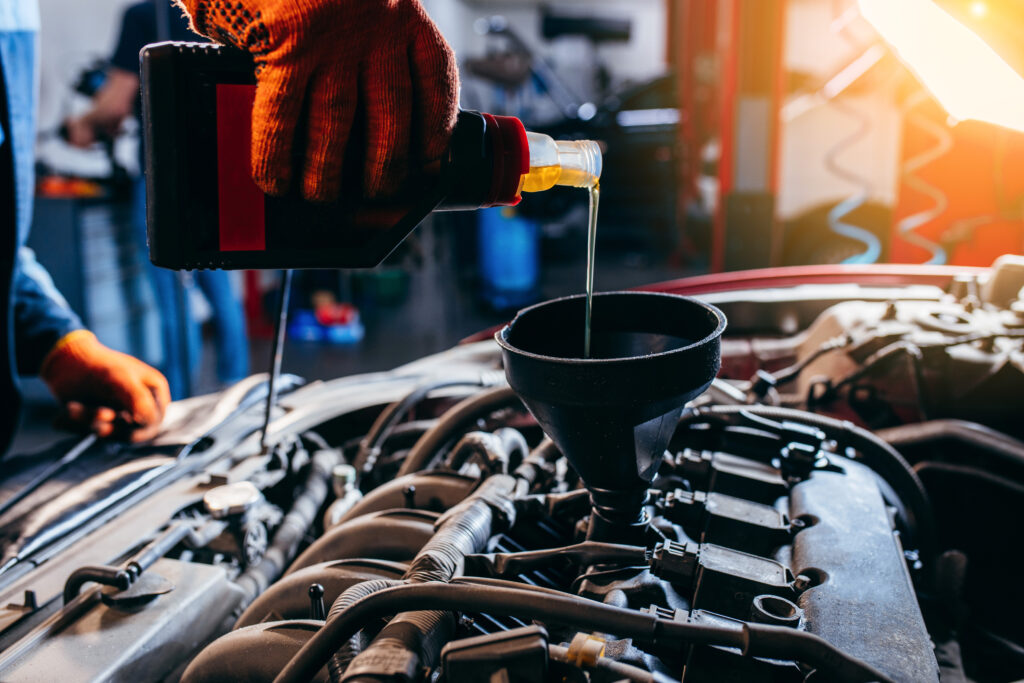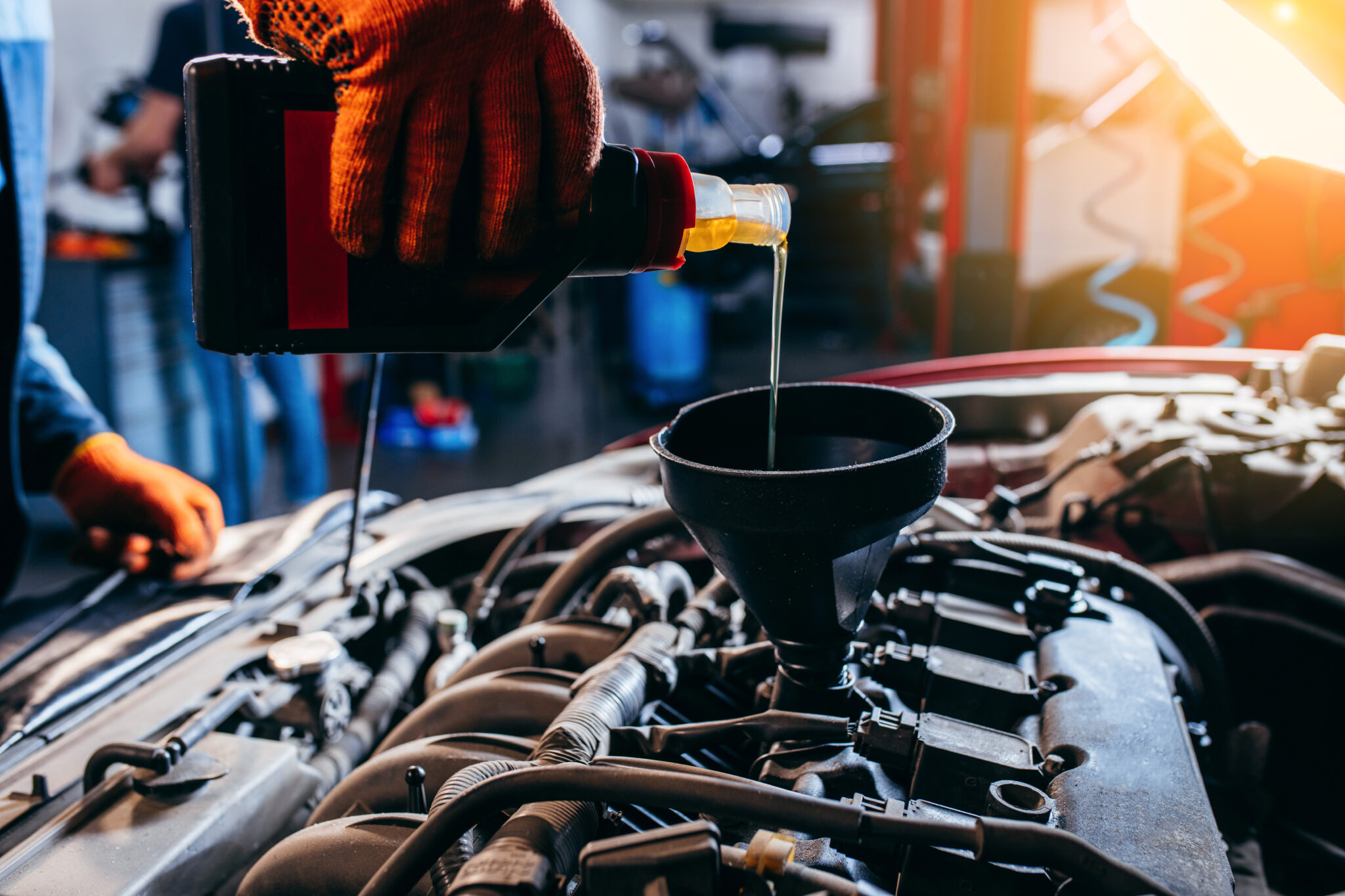 Oil Type
One of the most significant factors influencing the cost of an oil change is the type of oil used. Conventional oil is the most affordable option, while synthetic and high-mileage oils are more expensive.
Synthetic oils provide better engine protection and performance, while high-mileage oils are designed to prevent leaks and reduce engine wear in older vehicles. The cost of the oil itself will vary depending on the brand and type selected.
Engine Size And Car Type
Engine size is a crucial factor that can impact the cost of an oil change service at Valvoline. The larger the engine, the more oil it requires, and this can result in a higher price for the oil change.
For example, a four-cylinder engine typically requires around four to five quarts of oil, while a six-cylinder engine may require up to six quarts.
The make and model of your vehicle can also influence the cost of an oil change. Some vehicles require specific types of oil, such as high-performance or diesel engines, which can increase the overall cost.
Additionally, larger vehicles such as trucks and SUVs may require more oil, resulting in a higher price.
Location
The location of the Valvoline service center can also impact the cost of an oil change. For instance, automotive service chains in urban areas tend to be more expensive than those in rural areas.
This is because the cost of living is generally higher in urban areas, and service centers must account for those expenses when setting prices.
Why Should You Get Your Oil Change At Valvoline?
Here are some reasons why you should consider getting this task done by this provider.
Quick and convenient service: Valvoline is known for its fast and efficient service, with most oil changes completed in around 15-20 minutes.
Experienced technicians: Valvoline technicians are trained and certified to perform various maintenance services, including oil changes, tire rotations, and battery replacements.
Quality products: Valvoline offers a range of high-quality oils, including synthetic blends and full-synthetic motor oil options, designed to meet the needs of different types of vehicles and driving conditions.
Competitive pricing: Valvoline offers competitive prices for its services, and they frequently offer coupons and discounts to help customers save even more.
Additional services: In addition to motor oil changes, Valvoline also brings a range of other quick maintenance services, such as air filter replacements, wiper blade installations, and radiator flushes, to help keep your vehicle running smoothly.
When To Replace Your Oil
Regularly changing your engine lubricant is one of the most critical maintenance tasks to keep your vehicle running smoothly. As a general rule of thumb, it's recommended to replace your oil every 5,000 to 7,500 miles or every six months, depending on the manufacturer's recommendations.
However, other factors such as driving conditions, mileage, and the type of oil used can also impact the oil change frequency. It's important to check the oil level and condition regularly and be aware of any changes in engine performance, which may indicate the need for an oil change.
Frequently Asked Questions
What Are The Working Hours At Valvoline?
Most Valvoline service centers are open Monday to Friday from 8:00 AM to 7:00 PM and on Saturdays and Sundays from 10:00 AM to 6:00 PM. However, some Valvoline service centers may have different hours of operation, so it's best to check with your local Valvoline for their specific hours.
Is Valvoline Synthetic Oil Good?
Yes. Valvoline synthetic oil is generally considered good and a popular choice among car owners and mechanics alike. The brand offers a range of synthetic lubricants to meet the needs of different vehicle types and driving conditions.
How Fast Is An Oil Change At Valvoline?
On average, an oil change at Valvoline can typically be completed in around 15-20 minutes. Valvoline also offers a variety of other quick maintenance services that can be performed during the same visit, including tire rotations, battery replacement, and fluid top-offs.
How Long Can You Go Without An Oil Change?
Generally, getting an oil change every 5,000 to 7,500 miles or every six months is recommended, whichever comes first. However, some newer cars with synthetic oil can go up to 10,000 to 15,000 miles between oil changes.
Should You Tip The Oil Change Guy At Valvoline?
You certainly are not required to tip mechanics. You can refuse if they specifically ask for a tip (this does occur). They're a bit conceited and harsh about it. Although mechanics are paid rather well, it is not common.
The Bottom Line
The Valvoline oil change prices can vary based on factors such as the type of oil used, the number of quarts required, and any additional services selected.
While the cost of an oil change may be higher at Valvoline compared to some other providers, their commitment to quality and customer service makes them a top choice for many drivers.