Looking for an affordable place to maintain your car? Come to Meineke, known for its quality service and good deals. You can save even more by investing in oil change packages and collecting coupons. So how much does Meineke charge for an oil change? Scroll down to learn.
In this article:
How Much Is A Meineke Oil Change?
The synthetic blend oil charges you $34.95, which is on par with the industry standard. Vehicles over 75,000 miles or 10 years old are recommended for high-mileage motor oil at $54.95. Meineke synthetic oil change price is the most expensive at $69.95.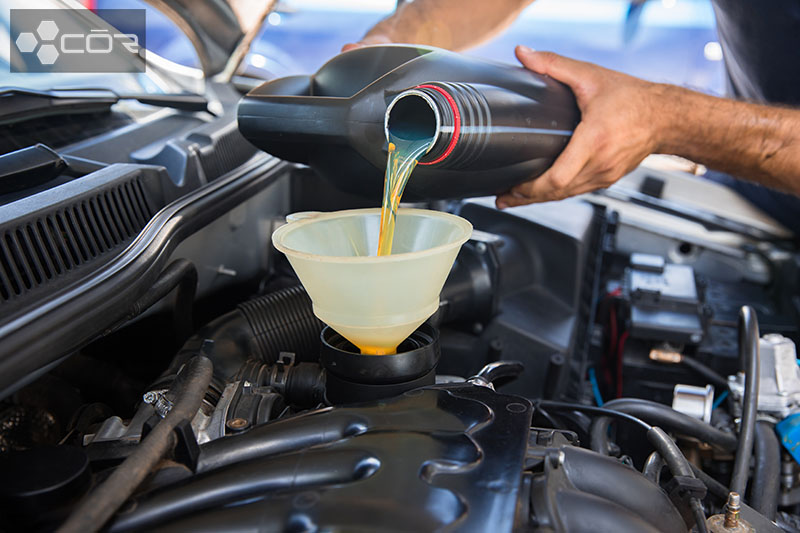 The typical cost for an oil change at Meineke varies by many factors, but it is affordable overall.
Factors That Influences The Cost
Besides the engine oil types, which determine the base price, a few other things that affect your final payment include:
Remember that the prices mentioned above are for five quarts of oil. Some large vehicles require more than that. In such cases, the owners spend the additional cost to refill their engines.
Your car model and design:
Some engines have complex internal structures that pose challenges for mechanics. They need special tools and more time to finish the job, thus adding to your bill.
Meineke auto service location:
If you are looking for an affordable maintenance shop around Houston or Texas, Meineke is an ideal destination. However, a few shops in the suburbs charge lower prices than those in the city center.
What Is Involved In The Meineke Oil Change Service?
Similar to other competitors, Meineke offers oil change services in basic packages. Depending on your chosen oil, you get 5 quarts of the corresponding product and a standard oil filter included.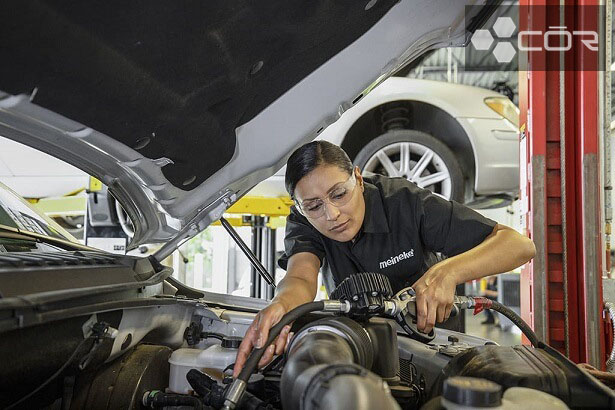 Experienced technicians will review your vehicle's specifications and health controls and provide helpful advice to maximize your benefits.
The best part is that you benefit from the wide range of services in the package, including tire pressure checks, tire rotations, and visual brake checks. They also offer fluid top-off as part of the deal so customers do not pay for individual requests.
Along the way, certified mechanics even conduct a 23-point inspection without costing a penny. Their standard test alerts you to potential damage. By detecting mechanical problems early, you can fix them early and avoid the risk of accidents on the road.
Some stores are willing to help you with minor issues at no extra cost. Meanwhile, other providers may offer free roadside assistance for 4 months.
Meineke Coupons & Promotions
Meineke issues coupons in various ways, such as on its official website or through representatives at local stores. Type the zip code into the search bar on the Meineke site to find great deals for your intended destination. (https://www.meineke.com/coupons-and-deals/)
Auto repair discounts have no fixed value but change based on the location or event. Depending on your choice of engine oil, these options are usually worth between $5-20 (or 10-20%). The good news is that you can combine multiple coupons to save even more money.
Besides, you should sign up for the Meineke Rewards program if you often visit its centers. New customers get 20% off for all services and other attractive promotions based on your spending.
At the simplest level, you can accumulate points through each transaction and convert them into gift cards for future visits.
Why Should You Visit Meineke Service Center?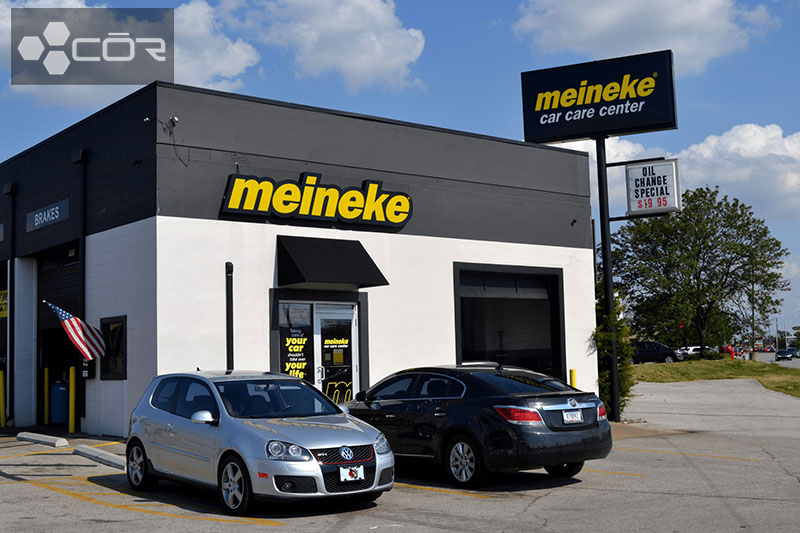 You can rest assured to leave your car at Meineke Car Care Centers since they always have dedicated mechanics to fulfill your request. We had our Ford F150 oil changed about 6 months ago and were satisfied with the auto service. There has been no sign of an oil leak or shortage until now.
Even when we came during the peak time at 9 am, we were welcomed by friendly and helpful front desk staff. Not long after, the technicians approached us and gave detailed advice on what to do. We got the necessary guidance and advice, not dubious upselling.
However, you should schedule an appointment online if you are short on time. Just call your local store or visit the official website. It is simple but effective for saving time in the maintenance center.
We also recommend you sign up for the Meineke credit card dedicated to its in-chain payments. The plus points worth considering include promotions for loyal customers and no annual fees.
FAQs
What Are The Meineke Working Hours?
Meineke is available from 7 a.m to 6 p.m on weekdays. The working hours on Saturday last from 7:30 a.m to 4 p.m, and most Meineka stores close on Sunday.
How Long Does An Oil Change At Meineke Take?
The entire process takes 30-45 minutes for the main task and additional service. However, the actual time varies depending on your vehicle and other factors.
Conclusion
Meineke full synthetic oil change price is higher than the other options, but this choice offers outstanding benefits for your vehicle. So which automotive service should you opt for? Consult with expert technicians to make the most of your investment. Choosing the right oil will save you money and maximize your engine performance.