Tire rotation is an important maintenance that owners often neglect. This task ensures a good tire shape to contribute to ultimate performance after an extended period of use. One reason for missed schedules is the fear of mounting charges.
The good news is that this service does not make you bankrupt. Scroll down to know tire rotation costs categorized by powertrains and providers.
In this article:
How Much Is A Tire Rotation And Oil Change?
The average price for tire rotation and oil change ranges from $40 – $150, depending on many factors.
In detail, a motor oil change will cost you about $20 – $100. The mechanics then recommend tire rotation to car owners for optimal performance, worth around $20 – $50. The specific amount varies according to your vehicle and where you go for the service.
By The Service Provider
Each auto shop provides a different service price list. Check the table below for a relative estimate of popular suppliers.
Brand/Auto service centers
Rotation cost (per tire)
Firestone
$20 (free for Firestone tires)
Pep Boys
$14.99 (free for tires bought at Pep Boys)
Discount Tire
$15 (free for tires bought at Discount Tire)
Valvoline
$20 to $50
Costco
$18 – $27
Walmart
Basic: $5
Lifetime: $14
Jiffy Lube
$10
Lucky you, these brands' sale promotions grant you significant benefits. For example, Firestone occasionally issues coupons that let you use their service for $9.99. Meanwhile, Midas and Discount Tire launch maintenance packages that charge tire rotation rate lower than usual.
By The Types Of Vehicle
Regarding the market segment, luxury cars spend more than $200 for tire rotation. Compared to conventional vehicles, they require a shorter service interval for tires of the same size.
In terms of powertrains, the market offers a distinctive pricing guide for the same service. You get a great deal on front-wheel drive (FWD) tires as they are the cheapest option. Technicians work with items remaining on the wheel, thus cutting labor time. Standard FWD models such as the Toyota Corolla or Honda Civic cost owners $40-75 for the upkeep.
The working period and technique for rear-wheel drive (RWD) vehicles are not much different. Hence, you can expect an equal or slightly higher payout (around $30-$80) when you have these tires rotated. Older models with larger wheels are more expensive.
Items for AWD (All-wheel-drive) have a strict requirement on rotation, including the degree of wear and balance. These increase the difficulty, which adds up to 50% to the cost. Owners should save at least $80 for their appointments.
Do you believe 4WD (Four-wheel-drive) is the same as AWD? The answer is NO. Its average cost of tire rotation rarely exceeds $100. Most of the expensive expenditures are to remedy the consequences of improper use in the long run. This price range also applies to electric vehicle tires but requires a shorter interval than the rest.
Where Can I Get My Tire Rotated For Free?
If you do not want to pay for this service, shop for tires at Costco or register its Membership, and you get a free lifetime tire rotation. Pep Boys also offers a similar policy for any booked services. As a last resort, do not hesitate to DIY with a detailed tutorial mentioned below.
Other Factors Determine The Cost Of Tire Rotation?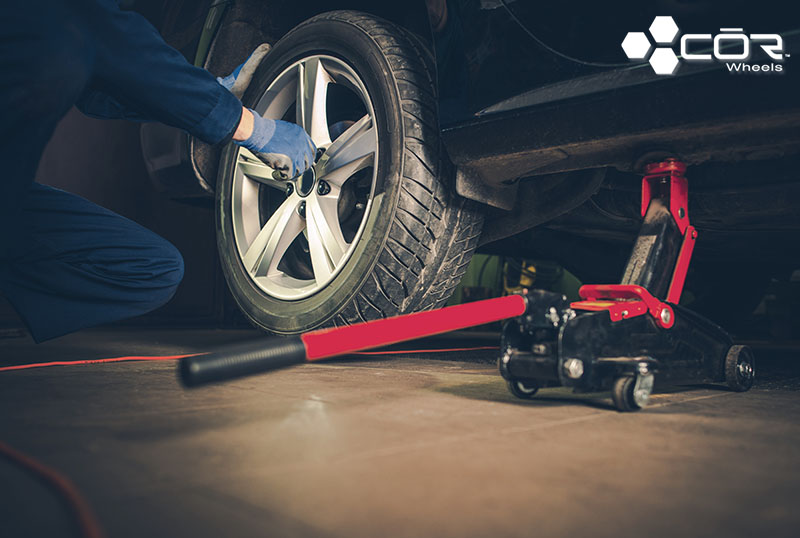 Types Of Tire
The type of tire you use affects your tire rotation costs in various ways. For example, large parts require more time, materials, and effort. These conditions contribute to the total price when the trucks visit the service center.
Another theory is that off-road tires that frequently travel on dirt and bumpy roads tend to wear unevenly over short periods. Hence, the owners must take them to the auto repair shop and pay for the maintenance several times a year.
Some drivers prefer to rotate tires at dealers as their vehicle comes up with a specific pattern. Of course, this need may increase the budget. If you have no idea about this, refer to our table.
| | |
| --- | --- |
| Common patterns | Types of vehicle |
| X-pattern | AWD and 4WD vehicles |
| Rearward cross | RWD vehicles |
| Forward cross | FWD cars |
| Front-to-back | Directional tires |
| Side-side-side | Staggered tires |
Wheel Size
Some modern models are fitted with larger rear wheels for good purposes. Some experts believe this design offers major benefits, including strong traction, fuel economy, and stability.
However, it poses a problem for the technician: the tire cannot rotate from front to back and vice versa. That's a trade-off regarding the higher rotation cost.
Other Services Involved
You may fall in love with offers for extra services once tire rotation is done. What makes sense here is what you get from them. Some "advice" is meant for profit rather than efficiency. Of course, if you visit the mechanic often, a full-service package is a good idea to cut down on total expenses.
Tips To Save Cost Of Tire Rotation
DIY is the most cost-effective approach for low-budget people. On the downside, some people don't have the experience, skills, tools, or time to perform the procedure at home. If you experience such limitations, follow these tips to get an affordable tire rotation.
Check with the centers for available sale promotions. For example, some shops lower rates when you add an oil change or exhaust system check-up to your routine.
Take advantage of multibuy discounts by purchasing service for four tires at once
Compare prices and go for the best deal
Make an appointment in the low season
DIY Rotation At Home – Simple Tutorial
Tire rotation at home is easier than you think. You do not have to prepare many specialized tools besides a jack stand (two or four are good for shorter working time) and a lug wrench. The steps below only last up to 30 minutes.
Park your car on a flat surface and put the handbrake on. If you are still concerned about safety, block the wheel.
Check for the tire pattern as recommended by the manufacturer. If you cannot find the manual, refer to our second section.
Use a lug wrench to loosen the lug nuts but hold them in place
Put the jack under the car and lift it. Then place the jack stand underneath the frame.
Remove the lug nuts and pull the tires out of the vehicle.
Rotate tires to new positions according to their appropriate pattern.
Reinstall the nuts and tires. Despite being optional, we recommend turning the lugs to the recommended torque and checking for air pressure afterward. At last, lower the car, and it's done.
FAQs
When Should You Rotate Tires?
Auto experts recommend a tire rotation every 5,000 miles or every 6 months. But it is best to observe the actual condition and act as soon as there are signs, including uneven tire wear, excessive noise, insufficient traction, or annoying vibration.
How Long Does A Tire Rotation Take?
A careful process usually takes about 30-45 minutes. However, depending on your vehicle and the required tires, it may last longer.
Do Spare Tires Require Rotation?
Maybe. If your spare items have the same specification as the ones in use, applying the same care guarantees stable quality and a longer lifespan
Conclusion
Though tire rotation is a reasonable investment with many benefits, you can save more money by following upkeep tips. This way, the final cost to rotate tires does not increase to compensate for the severe damage incurred. You should make a checklist for maintenance tasks and visit the auto care center on time.