Needless to say, owners always want the best for their premium vehicle, even basic maintenance like oil changes. That is why the Mercedes service is more expensive than the one for other mediocre vehicles. So how much is an oil change at Mercedes? Scroll down to learn.
In this article:
How Much Is A Mercedes Benz Oil Change?
The average cost for a Mercedes-Benz oil change ranges between $150 to $450 for stand-alone service. The payment depends on the model, manufacturing year, and service location. For instance, a large SUV usually charges more than a sedan because it requires motor oil.
Here are the estimated prices for some of the popular Mercedes cars:
| | |
| --- | --- |
| Model | Estimated Price |
| Mercedes-Benz GLC 300 | $141 – $192 |
| Mercedes-Benz GLA 250 | $174 – $206 |
| Mercedes-Benz GLE 350 | $189 – $221 |
You need a larger budget for older cars installed with a special oil filter. Due to its scarcity, professionals need more time to find sellers and pay extra for your part.
You can save a little if you visit suburban auto centers instead of those in big cities. It is worth considering taking your car to an independent shop rather than a dealership for a cheaper bill.
Why Is Mercedes Benz Oil Change Expensive?
Changing Mercedes Benz oil can be costly due to the large volume of high-quality oil needed, the complex engine, greater labor cost, and add-on services the dealership provides.
A Large Amount Of Oil
Mercedes-Benz cars offer a larger fuel capacity than Honda or Toyota. This feature makes your vehicle travel farther than others on the market.
While competitors typically require an oil change every 5,000 miles, Mercedes extends this time by two to three times (10,000 – 15,000 miles or a year, whichever comes first).
On the downside, you must pay a huge amount to refill your engine. As a general rule, Mercedes's oil capacity ranges from 5-8 quarts. Refer to the table below for specific capacity for available product lines.
| | |
| --- | --- |
| Models | Oil Level |
| C-Class | 5 quarts |
| E-Class | 6 quarts |
| S-Class | 7 quarts |
| GLC-Class | 6.3 quarts |
| GLE-Class | 7.2 quarts |
Premium Motor Oil
Most German cars work best with fully synthetic engine oils. Manufacturers follow this to meet the European ACEA standard and extend the engine life. Unfortunately, these oil options usually cost you an arm and a leg.
Mercedes cars require 229.51 multi-grade motor oils, at the upper end of the market average. This means you can do nothing but invest more in the maintenance costs of your premium vehicle.
Costly Labor Fee
A Mercedes Benz is born with multiple drain points that add more challenge to the service. The main task requires expert mechanics not to cause any damage, thus increasing hourly rate – the longer the process, the higher you will pay.
Plus, service centers often add material costs to labor charges. Mercedes dealers have expensive vacuum equipment to suck oil out of the engine. Some independent auto centers with economical service pricing do not serve such specialized tools, so customers must wait at least an hour for the oil dripping.
Additional Services
You may be suggested additional services when you do an oil change at a trusted dealer. It is not a form of upselling for service centers to get your money but routine maintenance, as the manufacturer recommends. There are two levels required based on the age of your vehicle, including:
Experts often offer this package for vehicles over 10,000 miles or within the first year of use. At a starting price of $250, the services include oil and filter change, brake inspection, tire rotation, road test, fluid top-offs, etc.
The maintenance schedule should be completed in the second year or every 20,000 miles, whichever comes first. In addition to the benefits included in the option above, this package also covers inspection in seat belts, front axle rubber boots, sunroof tracks lubrication, exhaust system, etc.
Customers need to prepare at least $470 to pay for this service.
When Should You Get Mercedes Benz Oil Change?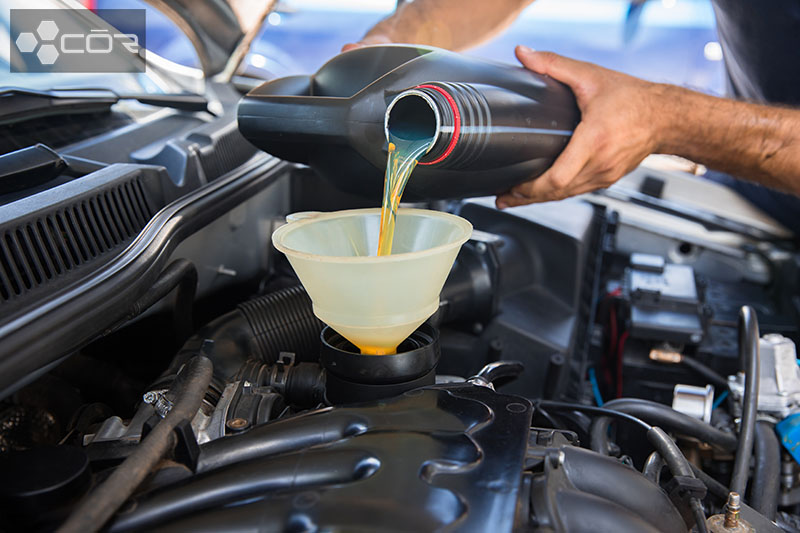 Mercedes' large oil capacity allows owners to extend intervals between servicing to 10,000 miles or 1 year. However, this doesn't make sense in the United States, where fuel quality and driving conditions differ from those in European countries.
In simple terms, American drivers tend to be involved in stop-and-go traffic more often. This driving habit prevents the engine oil from reaching the extreme temperatures needed to ignite clog-causing impurities. They also cause the engine to wear out faster than usual.
In addition, fuel's octane rating in the United States is lower than European standards. Low fuel quality reduces the oil life. Additional impurities, such as ethanol, also polute your oil faster.
In short, we recommend that US drivers change their oil every 5,000 miles to ensure the best performance. If your vehicle has a naturally aspirated engine, extending the allowed time to 7,500 miles is fine.
Tips To Reduce Mercedes Benz Oil Change Cost
There's nothing better than investing in an extended warranty to ease the financial burden of maintaining your Mercedes. These terms cover basic service and repair of the water pump or gearbox. Some programs deliver attractive discounts to keep your costs low.
Alternatively, compare costs between stores before taking your car in for service. Do not hesitate to ask the coupon reps. Some locations offer promotions for loyal members, students, military personnel, seniors, or other special visitors.
Last, consider a DIY oil change if you have the necessary skills and experience. This allows you to guarantee the origin of the new oil and filter when you order them yourself from the manufacturer.
FAQs
Should You Take Your Mercedes To A Quick-Lube Shop?
No, it's not a good idea. Stick with your trusted dealership to have high-quality parts on your vehicle. Quick-lube shops often raise controversy about the quality of the mechanic and the service.
Why Is Changing The Oil In My Mercedes-Benz Important?
A regular oil change keeps your engine clean and lubricated, contributing to its healthy condition. Plus, it is a necessary maintenance to avoid voiding your warranty.
Conclusion
The Mercedes oil change price is high, but the investment is worth it for first-class materials. This ensures that your engine performance is safe and optimal.
Additionally, high-quality product used can save money in the long run because it experiences less quality depreciation and thus prolongs oil change intervals. The point is that you need to spend time looking for reliable auto centers to get the best value for your luxury vehicles.