It's important to bring your 4×4 vehicle to rotation services as often as you can, sure. But do you know that aside from frequencies, tire rotation patterns also play a critical part? 
Failure to balance and align your tires properly might bring about irreversible damage to the car's operation system, friction, and overall performance. But no worries; our guide will lift some of your headaches by diving into the 4×4 tire rotation. Keep scrolling.
In this article:
Why Regular Rotations for Your Tires Are Important
Simple: tires wear down over time. And worse, these wears tend to be uneven – especially front tires. In our experience, they often break down from their outside edges – which the car usually leans on during cornering. Rear tires, on the other hand, only follow their front counterparts, leading to more uniform tread depth.
Leaving these radial tires as how they were originally installed (the rear tires at the rear, and front tires at the front) will wear down those outside edges much more quickly than other spots.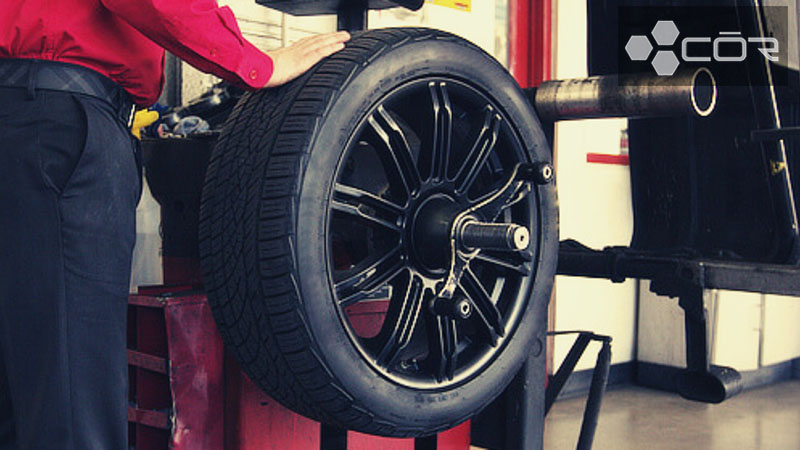 As the tires get increasingly ragged, don't be thrown off if your driving trip seems rougher and less smooth than ever. Been there, done that!
That is why a smart driver would service and rotate the car every few miles to extend the tread life. Such a simple yet efficient tire maintenance schedule has helped us save quite a few pennies in the past few years!
What Is The 4×4 Truck Tire Rotation Pattern? How to Rotate Tires on 4×4
1. For Non-Directional Tires Of The Same Sizes:
Rearward Cross:

The best rotating pattern for expensive models like 4WD, AWD, or even rear-wheel drive!
With this arrangement, the rear tires will be removed from their current position to forward axles, where they are still on the similar vehicle side. Meanwhile, their front counterparts are relocated to the opposite rear axle sides.
X-Patterns:

Highly recommended for sedans or light trucks like ours. One must move the tires diagonally from one particular axle to another position on the opposite.
2. For Non-Directional, Uniform-Sized Tires That Goes With Full-Sized, Temporary Spare Tires:
Even the smallest differences between the tires can put the drive train under undue strain even in regular road conditions. Hence, it's important to rotate the full-size spare along with your other four main vehicle tires; only then can you ensure the treads are formed consistently.
Rearward Cross
For our cars, we usually do the following:
Moving all rear axle tires straight to our front axle
Relocating the spare to our rear axles' right side.
Carrying the right tire at the front to our rear left
Turning the left tire at the front into our new full-sized spare

Forward Cross
Thankfully, the process is not as challenging as we initially assumed. Turns out it's the same as rearward-cross patterns but in reverse order. Here's what we did with our vehicle types:
Moving rear tires diagonally to front axles at opposite sides
Positioning the spare at our rear axle's right side
Shifting the front tire on the left back to our left rear position
Turning our front tire on the right into a new spare

3. For Directional, High-Performance Tires:
Side by Side (For Performance Tires That Are Differently-Sized)

Tires with non-uniform dimensions used to stress us out. Thankfully, one of our team members has thought of a great solution: keeping every tire in its current axle side, but switching the tire's position closer to its similar-sized partners.
After that, the rest is easy: relocating the rear tires to the car's opposite side before repeating the same with the front ones.
From The Front To The Rear (For Regular Directional Tires)
Nothing complicated here: just move all tires from one axle to another while keeping them on the current vehicle's side.
Hard to map it out? Let's look at an example with one of our cars:
Moving the left tire at the front to our rear axle's left side
Repositioning the left tire at the rear to our front axle's left side
Which Four Wheel Drive Tire Rotation Pattern Is The Best?
To each their own, really. But our team members will always turn to rearward-cross tire rotation pattern 4×4 at the end of the day.
It is the best one-size-fits-all pattern that can suit all types of car designs for one. Better yet, our vehicle also enjoys better control and movement flow from both axle sides!
We have applied this pattern on our 2010 Ford F150 since 2016 when we changed the tires; now it's April 2023, and our tire set is still in good use, which means they last 25% longer than normal (replacement is required every 6 years). Also, all four tires manifest more even tread wear, as each is, in turn, placed at all 4 positions around the truck.
When Should You Not Rotate The Tires In Certain Patterns? Tip to Take Note?
Learning the DOs on how to rotate tires on a 4×4 truck is not enough; you must also keep in mind the DON'Ts. Take more caution if your car tires falls into one of these common categories in the tire industry:
Directional Tires: As its name suggests pretty clearly, they are meant to spin in just one direction. Rotating them from side to side is a big no; that's one of my worst beginner mistakes. Only switch them from the front to the rear and vice versa! 
Staggered Tires: The tire sizes at the front axles usually differ from those on the rear in these models. Hence, contrary to directional tire types, avoid front-to-rear rotations for them at all costs. Just rotate them from side to side!
How Often Should You Rotate Tires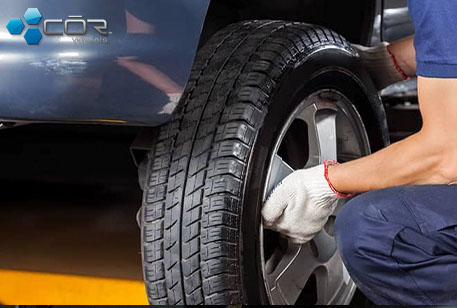 Preferably every 5000 to 7000 miles. For example, our 2010 Ford F150's tire rotation routine is 7000 miles. However, your car is definitely not the same as ours in terms of models, engines, add-ons, etc., so our advice on ideal rotation periods is not really a must-follow rule.
The best bet is to confirm the matter with your tire dealer or tire manufacturers.
How Much Does A Tire Rotation Cost?
Again, note that the estimation differs across each car service. But overall, it should not cost you anything more than $80.
Certain brands even offer regular tire rotations at zero cost (we know; we were shocked when hearing about it for the first time, too) if you purchased their tires!
FAQs: Extra Expert Service Advice
1. What Happens If Tire Rotation Is Wrong?
Rotation going in the wrong direction is bad news: the uneven-wear issue cannot be fixed and only gets even more hopeless. Worse, excessive noises will plague you for the rest of your trip!
2. Why Does Toyota Rotate Tires Front to Back?
Because Toyota tires are usually asymmetrical/directional tires. And you still remember what we said about directional tires in the above section, right? 
Conclusion
Our guide has explored all possible tire rotation pattern 4×4 truck options.
Keep our tips in mind to ensure the best dynamic ride and healthy tires. Write to our service experts or contact a tire shop/vehicle manufacturer if trouble with the basic features still follows!