Seasoned drivers must have heard of Firestone – arguably one of the best maintenance shops for tire rotations based on numerous positive reviews.
But besides service quality, the financial aspect should not be taken off the list, either. What is the Firestone tire rotation and balance cost? Is it affordable?
Trust our experts to explore this matter in depth. Keep scrolling.
In this article:
How Much Is A Tire Rotation At Firestone?
As regular customers at Firestone, the tire rotation service is FREE if your tires are Firestone-manufactured. For those buying tires from other brands, they have to pay around $20 for a rotation at this store.
And if you purchase a car service coupon from their website you can almost always find a coupon for the same service for $9.99.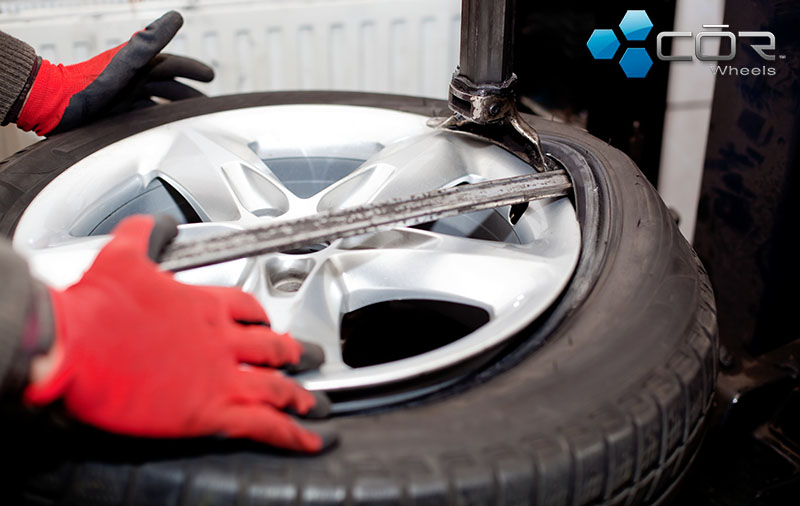 Some might complain that the price seems a bit of a stretch, but we do not think so; considering other discounted services like oil changes, wheel alignments, etc., that's quite a bargain.
Still want to cut off the expenses? Then our suggestion is only to have your tires rotated when necessary. Look out for these symptoms:
Tear and Wear
The first symptoms to look out for are none other than your wheels' condition. Remember to check/compare the wheel's grips to ensure equal and consistent traction in every drive!
And we have also found out (in a not-so-pleasant way) that the front tires wear out much faster than their rear counterparts. Do not neglect them for too long!
Vibrations
Another clear signal is vibration – the tell-tale indicator that your car wants some good rotations! A well-functioning, high-quality car shouldn't vibrate at below 40 MPH, so if that happens… Well, well, well.
We used to overlook a severe puncture in one of our front tires. Even now, we still dare not think about all the disasters our car was put through on that terrifying day.
Punctures often go hand in hand with lost air pressure, leading to inevitably uneven tread depth. Have the mechanic fix that puncture first, then proceed to rotate the tires.
Poor Alignment
A common dilemma in neighborhoods with too many road knocks and bumps. Wheel misalignments after such collisions are inevitable, leaving detrimental impacts on the steering system and wheels.
Do not ignore the issue; take the car to service shops immediately to avoid worsening the problem. We truly mean it!
Firestone Tire Rotation Cost Comparison – Is It Worth Your Money?
Though some might say Firestone's offers are a bit costly, we are pleasantly surprised that it's still quite cheap compared to similar services – while offering a lot of extra maintenance services. Only a total novice would claim it isn't worth the money!
The full chart:
Brand/Auto service centers
Rotation cost (per tire)
Firestone
$20 (free for Firestone tires)
Pep Boys
$14.99 (free for tires bought at Pep Boys)
Discount Tire
$15 (free for tires bought at Discount Tire)
Valvoline
$20 to $50
Costco
$18 – $27
Walmart
Basic: $5
Lifetime: $14
Jiffy Lube
$10
Other Car Services At Firestone
As one of the most reputable maintenance chain shops, Firestone does not just excel in tire rotations. You can expect tons of other great maintenance tasks here, too, such as:
Battery installation
A/C repair
Engine repair + Brake repair
Oil changes, engine tune-ups
Suspension and steering repair, radiator service
Tire repair & tire mounting (often going with rotation)
Wheel alignment
Transmission service (we have tried it, and trust us; the staff is amazing)
Valve stem replacements
A lot more, based on your specific demands
How Often Should You Rotate Your Tires?
Never underestimate the power of regular tire rotation. We have been able to travel thousands of miles on our old Jeef thanks to regular rotation schedules. From our best experience, every 5000 to 7000 miles is the safest range.
For those who want to put off these services to, quote, "save the costs", keep this in mind: these tiny tires are the single connection between the road and your 1-ton car.
Keeping them aligned and well-maintained will benefit you even in the roughest driving conditions. Otherwise, deadly collisions and accidents are only a matter of time.
Can You Do A Tire Rotation On Your Own?
Sure, why not? Given you are an average mechanic and equip yourself with all the necessary tools, DIY rotations are a great solution to saving budgets.
Trace along with our guides carefully:
Step One. Apply your handbrake (parking brake) for safety.
Step Two. Loosen the wheels' lug nuts but don't remove them completely. This tactic allows easier removals later on once the car has been raised.
Step Three. Use a jack stand or block to lift your car. Rotate the tires according to the manufacturer's instructions. Keep in mind whether the tires are non-directional or directional:
For directional: Avoid side-to-side rotation
For non-directional: Avoid front-to-rear
Step Four. Lower the car after you have finished. Ensure you re-fasten the nuts as evenly and securely as they originally were.
FAQs
How Long Does It Take to Get Tires Rotated?
It takes about 15 minutes if you have it done at the shop – and 30-60 minutes for those rotating the tires by themselves.
Is It Bad If I Don't Rotate My Tires?
No, if they are in good condition or still have a lot of treads left. But should you spot any of the symptoms mentioned above, ignoring the issue will not do your car any good.
Conclusion
Anyone seeking quick and efficient tire rotation can entrust the fate of their cars to Firestone's experienced staff.
We have also covered other extra tips to help you cut costs – and introduce other brand alternatives with comparable or slightly lower price ranges. For more support, please write to us.