Does Costco do front-end alignments? Let's continue reading to find out what automotive services are available at this company and the Costco alignment price. You will be shocked by the answers.
In this article:
Does Costco Do Alignment?
No. Tire alignment services are not provided by Costco because they are more often related to auto repairs than routine auto maintenance.
But Costco is still a dependable store for tire up-keep. There are several wholesalers and merchants that rival Costco in size, but Costco stands out from most of them.
This is due to its commitment to serving as a one-stop shop for all automotive needs, such as solving tire issues, camber settings, suspension inspection, etc.
Why Doesn't Costco Do Wheel Alignments
Why does this well-known company not offer wheel assembly services? Here are some likely explanations for this.
Low Demand
Alignment for vehicles is typically advised at least every three years or with every tire change by service specialists. This procedure can assist in lessening the necessity for tire repairs by preventing early deterioration of the steering wheel and suspension components.
Although many drivers change their tires when premature tire wear appears, they rarely get their wheels aligned. Certain drivers may go 20 up to 30 years without getting their wheels aligned. As a result, purchasing bulky, expensive equipment for aligning wheels may not be worthwhile.
Costly Operating Device
The average cost of wheel alignment equipment is high. Let's say Costco decides to purchase these expensive machines for all tire centers.
In this case, it will take a very long time for them to recoup the equipment and operational costs, given the price of the alignment machine, servicing demand, and the requirement for skilled personnel.
Trained Technicians Required
Since tire fitments call for expertise, precision, and specialized equipment, Costco would need to thoroughly teach their staff how to operate alignment devices before approaching doing so properly.
As noted before, maintaining these equipment is fairly expensive, so the brand would either have to get and pay for outside maintenance or invest in training its staff. In both cases, it is quite costly.
Revenue Decrease
A set of brand-new tires can cost up to 400 dollars, while a wheel alignment might cost between 80 and 100 dollars. There are fewer opportunities to serve a consumer who requests new tires for every adjustment. As a result, alignment services may impact Costco's revenue.
What Tire Services Are Available And Not Available At Costco?
Active Costco members can take advantage of many installation and maintenance services, which come at quite affordable costs. Yet, there are a few services excluded from their coverage. To help you out, here are the lists of the available and non-available services at Costco.
Available
Tire installation for Costco tires: $18.99/tire
Flat repair: $10.99/tire
Tire balancing and tire rotation: $21.99
Tire pressure check: Free of charge
Valve stem replacement: Free of charge with flat repair
Not Available
Wheel alignment
Installation or replacement tires not from Costco
Installing tires that are smaller/larger than what the manufacturer specifies
Installation of ATV or golf cart tires
How To Make An Appointment For Tire Service At Costco?
Setting an appointment times before you go to Costco can save you from wasting time in the waiting line. Here is how to do it.
Step 1: Go to Costcotireappointments.com and login into your account. If you are new to the website, click the "Create New Account" option and follow the instructions.
Step 2: After logging in, you can look for a place to book your appointment. You can choose the site by selecting the "Select Site" option or hitting the map's pin icon.
Step 3: Do a tire search, choose your vehicle type and the service you want.
Step 4: Set the time frame of your appointment.
Step 5: Fill in your contact details.
Step 6: Select "Finish Up Appointment". A confirmation email will be sent to you right away. And you are done!
Note:
Although walk-ins are welcome at Costco Wholesale Tire Center, clients without appointments may face lengthy wait periods, especially if they visit on a busy day. Thus, the online scheduling is advised.
Not every Costco location offers a tire center, so your choices for where to schedule an appointment may be restricted. Your options will also be constrained by the Tire Center's regular business hours, which are 10 AM to 8:30 PM.
Where Else Can You Go To Do Your Wheel Alignment?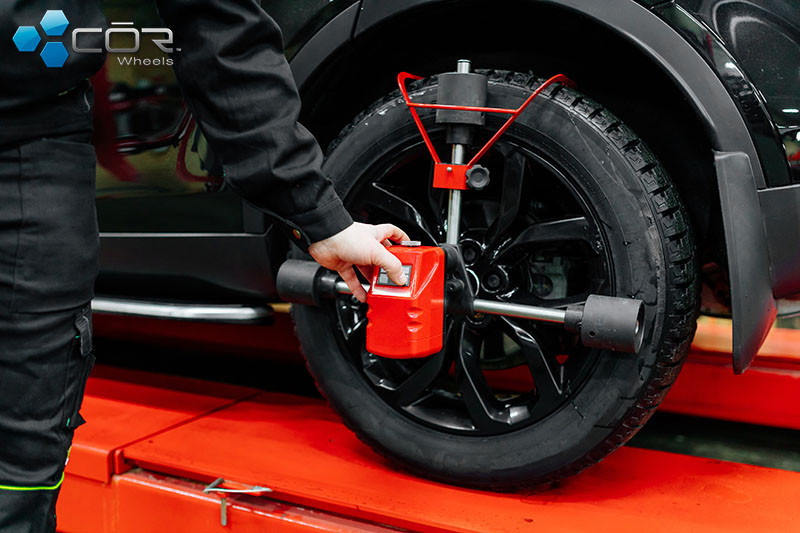 Any type of alignment is not provided at Costco, but many other reliable maintenance and repair businesses offer this service. Here are some of the most reliable facilities you can go to.
Firestone: Firestone, one of the most well-known locations for comprehensive auto care, offers wheel alignment for 80 dollars with a one-year tire warranty.
Sears: You may have the wheels on your automobile aligned at Sears. The cost is 85 dollars, and the warranty is good for six months.
Walmart: This wholesaler can do wheel alignment at select facilities with a normal charge of 75 dollars. However, notice that they don't provide any warranties.
Pep Boys: Many individuals send their cars to Pep Boys to have the wheels aligned. They will normally charge you approximately 85 dollars for a regular alignment, plus a 3-month warranty.
Goodyear: The wheel alignment service here costs 100 dollars. The stores also provide you with a 6-month warranty.
Frequently Asked Questions
Is The Alignment Service Available If I Buy Tires From Costco?
No. Even though Costco is well-known in the automotive sector and has tire shops in several areas, it doesn't provide a single wheel alignment service. So even if you purchase brand-new tires from this wholesaler, you will not get an alignment.
How Much Does Wheel Alignment Cost?
The price depends on the kind of alignment your vehicle requires. Likely, you won't spend more than 80 dollars overall if you merely perform a front-end alignment. The cost of an all-four/thrust alignment, on the other hand, may reach 250 dollars.
How Frequently Should I Align My Wheels?
Most mechanics recommend aligning your wheels no more frequently than every two to three years. You can also check out the car's manual or consult the dealership for more information.
The Bottom Line
Costco doesn't offer wheel alignments, even for Costco-purchased tires. Still, there are numerous locations that can help you solve troubles with tire alignments, many of which are just as reliable as Costco. So you can check out these places for a quick alignment.