As the world becomes more digital, many people are turning to online shopping for convenience and cost savings. Buying tires online is no exception, as it allows you to easily compare prices and read reviews from the comfort of your own home. However, once you've made your purchase, the next question arises: who will install tires purchased online?
With many options available, from traditional brick-and-mortar tire shops to mobile tire services, it is easy to know where to turn. Here are some of the most popular choices that can simplify your deciding process.
In this article:
Where Can I Get My Own Tires Installed
Independent Wheel Shops
Since this is probably the simplest and the least expensive method to accomplish it, the majority of customers who purchase tires online typically take them to nearby independent tire shops.
Since these businesses often operate on a smaller scale, you shouldn't have to wait too long. Additionally, a neighborhood independent store frequently provides special discounts or promotions for customers who reside nearby.
The disadvantages of having your tires installed at a small, local tire shop are related to how skilled and informed your neighborhood technician is. So, your neighborhood tire shop may not be able to handle the job when you have an expensive car or one that employs center-locking nuts.
Aftermarket Tire Shops
These days, people enjoy customizing their automobiles to make them unique and distinctive, which sometimes entails changing the exterior design so the car's owner may be seen in a certain light.
One option to do this is to spend money on a set of new gleaming rims, and most of these aftermarket stores also provide tire mounting and installation services.
You may have your tires mounted on your current wheels at one of these shops if you're happy with your vehicle's appearance and don't want to acquire a new set of wheels. Although they are more expensive, they will take better care of your automobile than other facilities on the list.
Service Centers
Tire centers such as Bridgestone, Goodyear, Discount Tire, etc., are where you may bring your tires and vehicle. Their professionals will install your tires for a predetermined fee.
These kinds of locations provide a wide range of auto maintenance services, so you may maintain your automobile and get new tires placed. These locations would have the disadvantages of being overpriced, busy, and even far from where you live.
I once bought 4 Discount tires online and brought them to the nearest Discount Tire shop for free installation. I didn't make an appointment beforehand (my bad) and had to wait so long that it drained the last bit of my patience. Then, I decided to get it done at a nearby automotive tech vocational school instead of saving some bucks there (I will tell you the details later).
Wholesaler Facilities
The facilities, such as Sam's Club, TireHub, etc., often sell tires in bulk to retailers, but some also offer installation services to consumers. Because they deal directly with manufacturers and may purchase tires in large quantities, they may provide lower prices than traditional tire shops.
That said, some wholesalers may only offer installation services on certain days or have limited hours. Hence, remember to check their availability before making a trip.
Dealerships
Owners of vehicles that require more extensive maintenance send their cars to dealerships for a variety of services, including oil changes, detailing, significant repairs, and component installations. Most will be delighted to see you because they have a thing for loyal clients.
As a result of their propensity to charge more, large tire shops and facilities tend to operate on a considerably lower standard than most dealerships.
Gas Station Service Facilities
It depends on the gas station type because few provide services beyond selling fuel, oil, air compressors, coolants, wipers, and other auto accessories.
If they do perform tire installations and maintenance services, make sure to check over the facility in advance, as they aren't typically people's first choices.
Oil Change Centers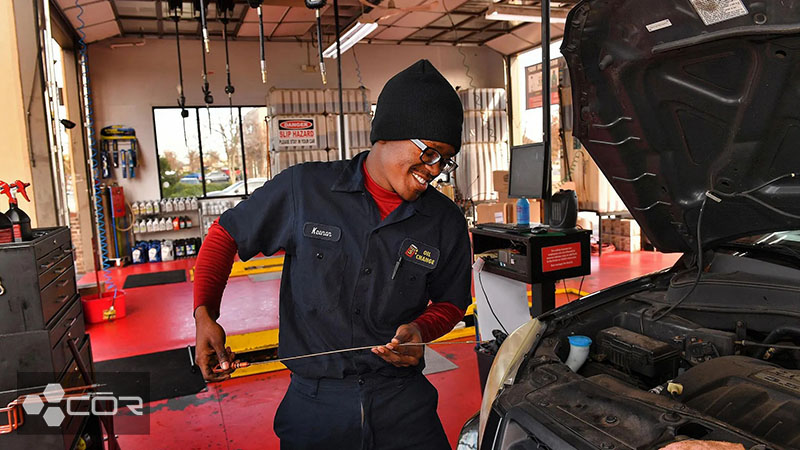 While Valvoline and Jiffy Lube are well-known for providing quick oil changes, many customers also bring their cars there for other auto maintenance services, some related to tires. 
As a result, you may also do your research and inquire about their willingness to install the tires when you contact your neighborhood oil change facilities.
Grocery Stores With Tire Service Centers
While stores like Walmart and Costco provide a variety of automobile maintenance services and inspections, not all of them can install tires if you have already purchased your tires elsewhere.
Their benefit is that they have affordable costs, they are open almost constantly, you can schedule an appointment, and you may go around their stores while your auto is being serviced.
Automotive Tech Vocational Schools
Although it may seem strange, mounting, balancing, and installing tires is one of the first skills you learn at vocational auto repair schools, so it's actually not a bad idea.
Additionally, a number of vocational schools function as independent automotive service centers, accepting shipments just like any other repair shop.
In my experience, this is my go-to place when I want to save extra money on installing tires without waiting for too long. These facilities may offer lower prices than traditional tire shops, as they often use student labor as a part of their training.
Where To Buy Tires Online And Have Them Installed At The Nearest Store?
Looking for a place to get your new set of wheels? Here is our list of recommendations.
Tire Rack
In terms of online shops, Tire Rack is unquestionably king. This Indiana-based company began by mail-ordering tires after running multi-page advertisements in all the enthusiast publications.
In 2000, I ordered my first pair of winter tires from Tire Rack for a 1989 Volkswagen Jetta, and they appeared to be delivered ahead of schedule. Their website is a fantastic source for all the information you could possibly need about tires.
Goodyear
In contrast to several other tire companies we looked into, Goodyear offers the option to buy goods online and have them delivered to your door or a nearby Goodyear tire outlet.
In all honesty, there hasn't been much discussion about the provider's direct tire sales, but this business needs to uphold its illustrious reputation.
It can ship a set of tires and have them put in two days. The only thing that bothers us and many other customers is that there are only Goodyear tires available. The majority of the time, the tires are excellent, but you'll need to seek elsewhere when you are interested in other manufacturers.
Discount Tire
Although Discount Tire was later to embrace the internet, their website still has a wealth of knowledge. It also has a wider selection of manufacturers, ranging from well-known names to lesser-known ones that you definitely wouldn't want to place on a vehicle you intended to maintain.
In comparison to Tire Rack, Discount Tire has the advantage of managing a number of stores around the nation that can perform the balancing and mounting tasks. It also ships directly to your home.
Tire Buyer
Tire Buyer allows you to buy tires online, ship them to a nearby installer, and then get the work done, providing capabilities comparable to those of Discount Tire and Tire Rack.
The provider will send your car parts for free to its 10,000 installers nationwide when you purchase from them. The online tire merchant will also provide free delivery to your house.
How Much Does It Cost To Install Tires Bought Online?
Depending on the size, the industry's average price per tire ranges between $13 and $45. For automobiles, sport utility vehicles, and light trucks, mounting and balancing procedures differ greatly and are greatly influenced by tire size.
Some charge by the diameter, while other sellers charge based on the aspect ratio. Without a doubt, the cost of mounting and balancing will escalate with the rim's size due to both the increased labor costs and the fact that heavier wheels typically require more weight.
Notice that most new tires will require balancing, so many providers already include this service fee in the total installation cost.
Frequently Asked Questions
Can I Change My Own Tire?
Yes, you can. It is quite safe to change a passenger vehicle's tire on your own if you have the proper equipment. The work isn't very difficult or risky in and of itself, but it does require lifting your car into the air.
Is It Cheaper To Buy Tires Online?
Yes, most of the time. Buying goods online can be cheaper than purchasing them from a brick-and-mortar tire store. Online retailers often have lower overhead costs, allowing them to offer better prices. Additionally, many online tire retailers provide free shipping or other discounts, further reducing the cost of purchasing.
Can I Put Different Brand Tires?
While it is generally not recommended to put different brand tires on a vehicle, it is possible. However, ensure the tires have the same size, load index, and speed rating as the original tires. It is recommended to have matching tires on each axle to ensure proper handling and safety.
The Bottom Line
Buying tires online can be a great way to save time and money, but it's important to consider where you'll have them installed. By researching and weighing the pros and cons of each option, you can find a trustworthy and convenient installation service that meets your needs. But who will mount tires purchased elsewhere?
Whether you visit a traditional tire shop, use a mobile tire service, or even install the tires yourself, the key is to prioritize safety and make sure your new set is properly installed and balanced. With the right approach, you can enjoy a smooth and stress-free experience when buying online.
See more: do new tires come with rims?