Tire pressure drops about 1.5 PSI (minimum) every month, so regular tire checks and inflations, needless to say, are a must for your car's survival.
There's one problem, though: the idea of spending money on air pressure every hundred miles does not sound very appealing to most tight-budget customers.
Hence, I would gladly share a list of free air for tires near me for your references.
In this article:
Where Can I Get Free Air For Tires Near Me?
Costco, WaWa, Sam's Club, Kroger, Hy-vee, Discount Tires, Goodyear, Firestone, Big O' Tire, and Sheetz are a few outstanding examples among numerous gas stations, auto/tire shops, and department stores offering free air pressure checks and refills.
Apart from places with free-for-all air refills, some require special membership or criteria. Check out this section for other contenders on the list.
1. Costco Centers (For Costco Members)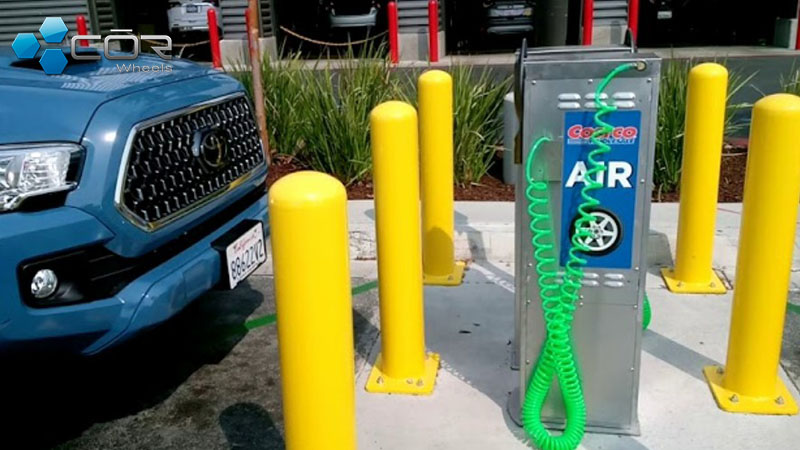 Are you a loyal Costco member? Then great news is in town: the chain offers tire air at zero cost. Better yet, instead of regular compressed air, the brand turns to nitrogen – long recognized for longer pressure retention and tire life preservation.
2. Sam's Club (For Members)
Like Costco, Sam's Club offers numerous car services at no extra charge for exclusive members. Cases in point include battery installation, tire rotations, tread-depth inspections, and – you guessed it – tire inflation and pressure checks.
3. WaWa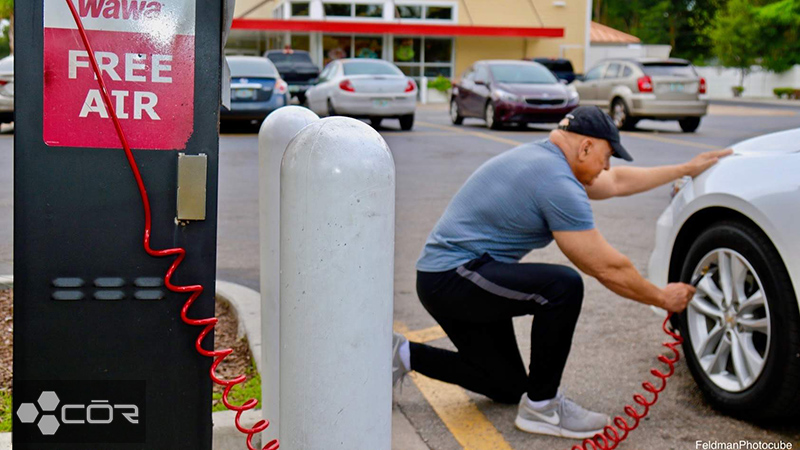 Drivers living on Eastern Coasts must have been already familiar with Wawa; its 900 locations reach almost every Eastern district to ensure all its potential customers receive free air pressure.
And do not forget to install the WaWa app to sign up for free beverages in advance during the waiting time. Their tastes are to die for.
4. Kroger Fuel (Certain Stations)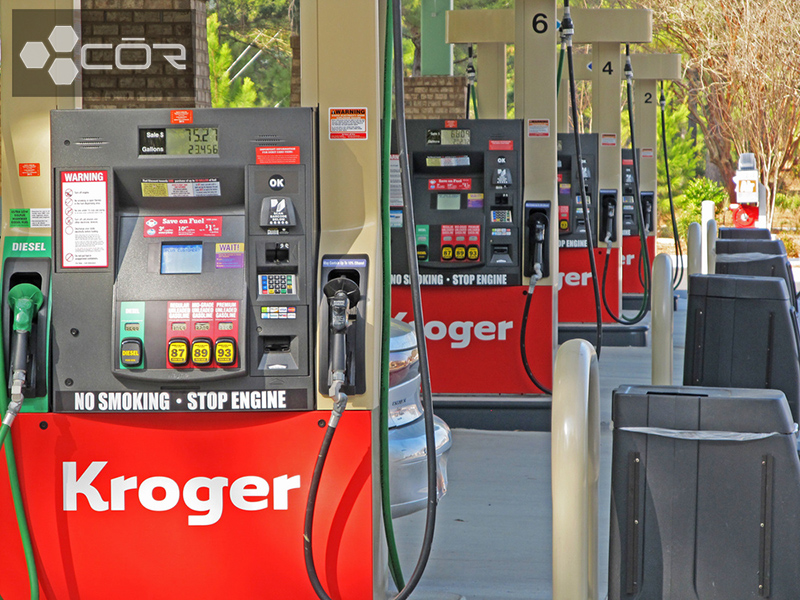 Kroger has always been known for its grocery stores; unbeknownst to some, the brand also operates gas station chains, with 900 branches expanding throughout the U.S..
Some stations have stopped offering free tire air – but to our delight, that is not the case for many others. You can easily find one near offices or buildings.
5. Hy-vee
Midwesterners have enjoyed free air at more than 280 Hy-vee locations for years. While at it, do not forget to stock up on some snacks at Hy-vee foot stores before continuing your long road trip.
6. Discount Tire
It's hard not to fall in love with Discount Tire. It offers the cheapest tires you have ever seen and even provides tire pressure checks at no charge.
To request free checkups (and free air, if necessary), simply drive to the designated area or schedule appointments in advance. Remember, they do not work on Sundays; plan your visit between Monday and Saturday.
7. Goodyear Auto Services
There's no need to pay any buck at Goodyear Service, either; their staff is more than willing to check your air pressure (all 4 wheels, may I add) and inflate them to the manufacturer's recommendation. Drop by their website to spot the most convenient location for you.
8. Firestone Auto Care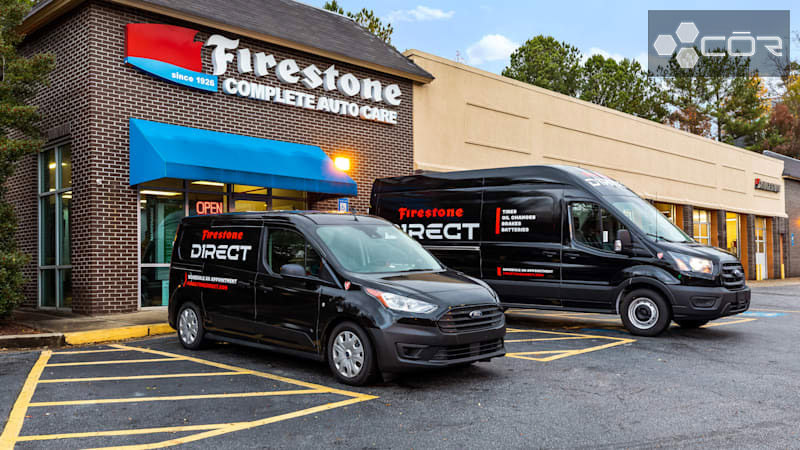 Firestone offers multiple vehicle examinations and checkups – including free air pressure and tire inspection. If the levels are below the recommended number, it will gladly help you refill the tires at 0$.
On its official websites, readers would also find some great articles on tips to refill the tires and check the pressure on your own with portable air compressors. The brand truly has your back every step of the way.
9. Big O' Tire
Another service center and tire dealership worth mentioning are Big O' Tire, whose air refills and tire pressure check-ups cost zero. 
The brand also offers amazing deals for tire replacements on a regular basis, such as 20% off vouchers or Buy Three Get One deal. Only a fool would choose to skip these opportunities.
10. Sheetz
Like Hy-vee and WaWa, Sheetz also earns favorable feedback for both free air and prepared food. 
Next time, feel free to stop at any Sheetz station to prepare gas, snacks, and tire air for the trips ahead. The latter, of course, arrive at no cost.
11. Royal Farms
Royal Farms is highly recommended for mid-Atlantic drivers, offering tire services (particularly free air) from more than 200 locations.
Those who do not live in Mid-Atlantic areas – but pass by it – should drop by one of its branches. The devoted staff and technicians will not disappoint.
12. GetGo
West Virginia, Pennsylvania, Ohio, Maryland, and Indiana have been home to GetGo branches for years. It only takes minutes to have your tires properly checked and inflated free of charge.
And if you want some great morning coffee before driving to work, GetGo is a lovely choice.
13. GetGo Services At Giant Eagles
For those living in major states where Giant Eagles stores are located (Ohio, Pennsylvania, West Virginia, and Maryland), do not forget to drop by one GetGo location attached to it and have your tires filled at no cost.
With more than 250 locations available, finding a Giant Eagle spot near your residence should be as easy as a piece of cake.
14. QuikTrip
One can easily spot a QuikTrip location in Arizona, Southeastern, Southern, and Midwestern regions.
Even if you do not live here, QuikTrip's free air services can still be practical; keep some nearby addresses in your note in case your car travels through these areas.
15. QuickChek
As one of the most popular convenience stores and gas stations in New Jersey and New York, QuickChek never disappoints with its diverse 150 locations (that continue to expand) and numerous services and products. Food, fuel, EV charges, and free air nearby are great examples.
Do not forget to make use of its free Wi-Fi and vacuums, as well.
16. NTB
NTB remains one of America's largest chain of convenience stores, with more than 600 locations across almost 30 states.
These stores offer premium service bays and wide tire selections at extremely low prices, such as cheap oil changes, regular maintenance, and free pressure checks and top-offs.
17. Jiffy Lube
Of course, one could never forget Jiffy Lube's high-quality top-off service, which comes as a complimentary package with other car upkeeps.
While having your main services carried out (ex: tire rotation/balance/ etc.), ask the technicians to check your tire pressure as well. They will happily do it for you (and inflate the tires if needed) without asking for payment.
18. Pep Boys
Service stations like Pep Boys have been offering free pressure checks since forever. Drop by Pep Boys to do the check/inflation on your own, or ask the staff to adjust the PSI levels for you for free. 
19. Let Just Tire
Let Just Tires offer free tire pressure checkups (and even complete vehicle inspections). So do not hesitate to lead to the closest location if you think your car needs air or new tires.
20. Most Holiday Stationstore
The brand has operated more than 500 locations (though mostly on the Northern side of America), offering free air checks and lots of special-occasion coupons. I see no reason not to give it a try.
21. Kum And Go
This automotive chain has repeatedly confirmed its free air check services (you can even find one such tweet on their official Twitter accounts!).
Better yet, aside from tire pressure, Kum and Go offer rewards programs for oil changes (saving 15% per gallon) and even FREE coffee, fruit, bakery items, and pizzas! Truly a heaven on Earth for all drivers.
22. Stewart Shops
Drop by Stewart Shops immediately if you currently live in Vermont or New York. Making its customers' life easier is one of Stewart's ultimate goals, which explains why they offer generous, no-charge air pumps and tire checks.
Navigate to its website to spot a closeby location near your residence.
23. Local Shops
On the off-chance that none of the brands mentioned above are available in your neighborhood, just drive around till you arrive at a local tire repair shop and ask them for a tire-pumping favor. 
Though this sounds like something that works on pure luck, its success rate is higher than you would think. Some dealerships are happy to provide the service for free with their machine or outdoor hose. And for your info, their pressure gauges are sometimes much more accurate than those at regular gas stations.
Once done, they may also reset your car's tire pressure lights and inspect other technical issues (if any).
How Much Does Tire Air Cost If I CanNot Find Free Tire Pressure Check Near Me?
Thankfully, tire air only costs from $1 to $2, while you have to pay $5 to $10 for nitrogen fill-ups. You have to do pressure pumps every month, so it might add up quite a large amount. Hence, it would be great to spot a free-air location within your vicinity.
How Often Should You Fill Your Car Tires?
As mentioned, tire pressures go down every month. Thus, keep a consistent pressure check schedule of at least once per month and inflate/deflate your tires accordingly.
Conclusion
I have listed 23 convenience store chains, tire shops, and gas stations with air pumps near me. Most also offer many other amazing benefits (WiFi, food, and other car services are only a few examples), saving both effort and money.
Visit their official websites or Google Maps to spot the most convenient location for you. Feel free to write to me if you still need help.