Scheduling a Costco tire alignment appointment or other services is a great way to ensure your vehicle is properly maintained in the shortest time possible. Whether you're a busy professional or want to avoid waiting in line, knowing how to make an appointment can save you time and hassle.
Let's explore different methods so that you can choose the one that's right for you.
In this article:
How To Schedule A Costco Tire Center Appointment
1. Call Via Phone
Step 1: Call the Costco Tire Center appointment phone number
Dial (425) 313-8100 to connect with the Costco Tire Center. Be prepared for a possible wait time during busy periods.
Step 2: Provide the required details
Once connected, a representative will greet you. Provide your membership number (if applicable) and inform them that you'd like to schedule a tire center appointment. They may ask for your vehicle information, so have it ready to provide.
Step 3: Select a suitable date and time
Inform the representative of your preferred date and time for the appointment. They will check availability and suggest the nearest available time slots. If the options provided are not convenient for you, politely inquire about alternative dates and times.
Step 4: Confirm the details
Review the appointment details provided by the representative. Double-check the date, time, and location to ensure accuracy. If everything is correct, confirm the appointment.
Step 5: Provide contact information
The representative may ask for your name and contact details, such as your phone number, to confirm the appointment and provide any updates or reminders.
Step 6: Ask about any special instructions
If you have any specific requests or additional automotive tire services you'd like to inquire about, such as tire rotations or balancing, ask the representative for more information and availability.
2. Via Their Website Or App
Step 1: Visit the scheduling website/app
To make a Costo tire appointment online, open your web browser, go to the official Costco Tire change website or download their app on Google Play Store or App Store, and log in to your account.
Step 2: Select your location
Choose your location by entering your city, state, or zip code. The website will provide you with a list of nearby Costco Tire Centers.

Step 3: Choose the desired Tire Center
Review the list of Tire Center shops and select the one that is most convenient for you.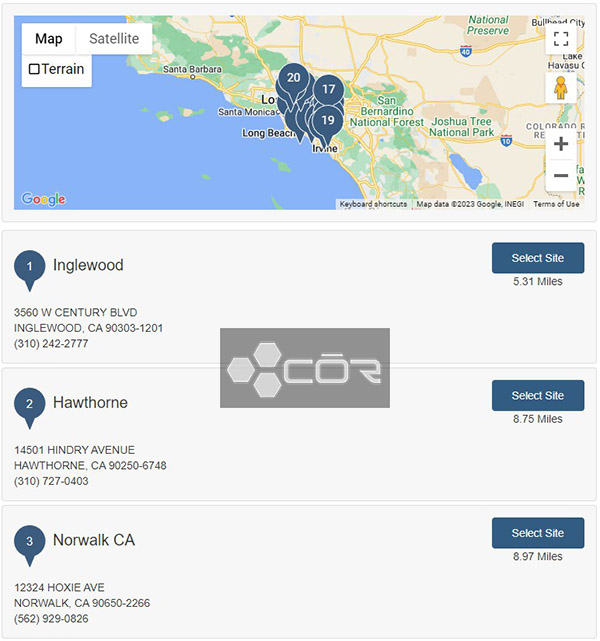 Step 4: Click on "Schedule Appointment"
Once you've selected the Tire Center, look for an option or button that says "Schedule Appointment" or something similar. Click on it to proceed.
Step 5: Provide necessary vehicle information
You will be prompted to provide details about your vehicle, including the make, model, year, and possibly the tire size. Fill in the required information accurately.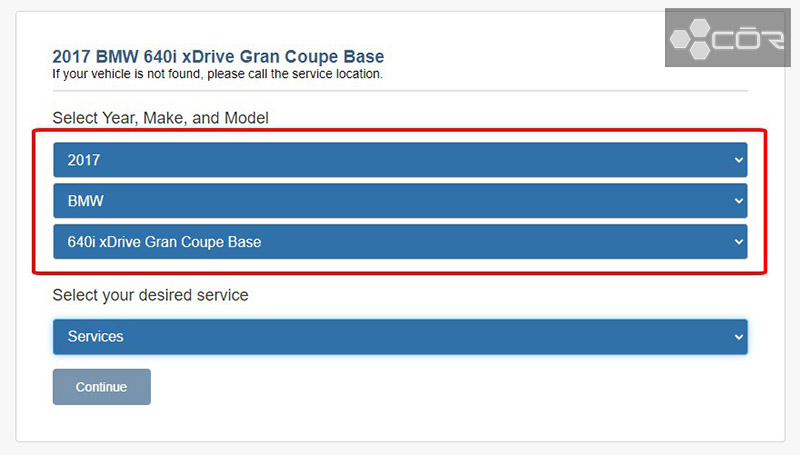 Step 6: Select the service
Choose the type of service you require from the available options, such as tire installation, tire rotation, or tire balancing.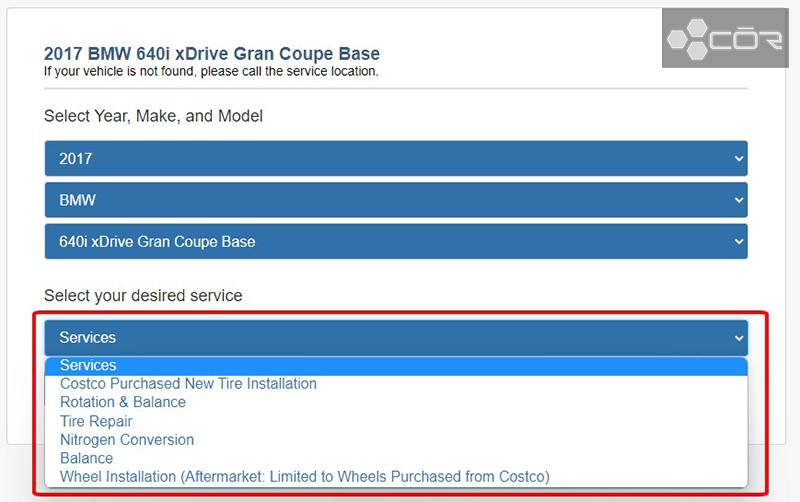 Step 7: Pick a date and time
Select your preferred appointment time and date. The website will display available time slots based on the Tire Center's schedule.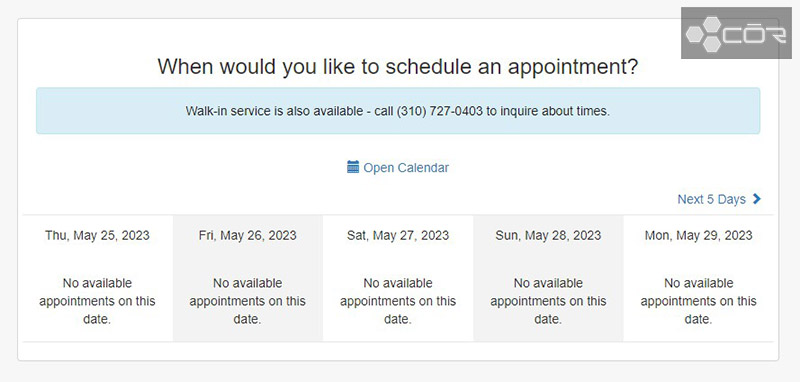 Step 8: Confirm the details
Go over the appointment details, including the date, time, and selected service again. Double-check for accuracy and make any necessary changes.
Step 9: Provide contact electronic information
Enter your contact information, such as your name, phone number, and email address, to confirm the appointment and receive any updates or reminders.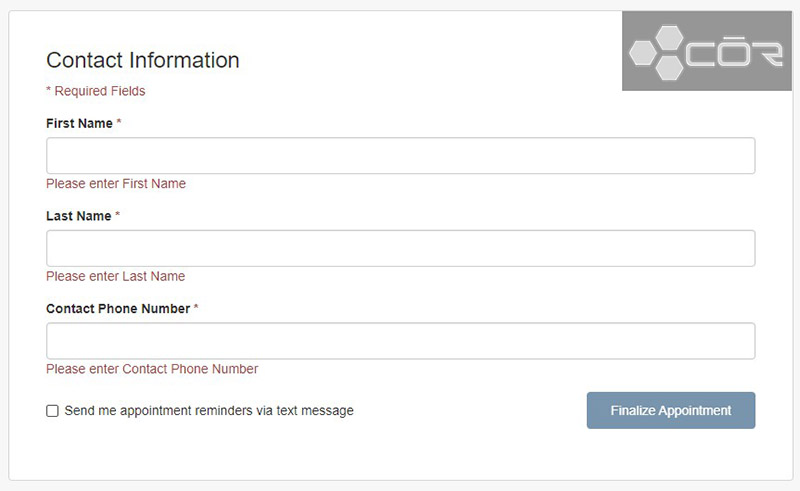 Step 10: Submit the appointment request
Click on the "Submit" or "Confirm Appointment" button to finalize your request. The website may provide a confirmation page or send you a confirmation e-mail with the appointment details.
3. Go To Their Store
Step 1: Locate your nearest Costco warehouse
Use the Costco Store Locator on the official Costco website or a search engine to find the nearest Costco shop to your location.
Step 2: Find the Tire Center
Once inside the Costco store, locate the Tire Center. It is usually situated near the automotive section or as a separate department. If unsure, ask a store employee for directions.
Step 3: Follow the staff's instruction
Approach the Tire Center desk and speak to a staff team member. Let them know that you would like to schedule a tire service appointment. They will guide you through the process.
Step 4: Select and confirm the appointment
Choose and review the appointment details provided by the staff member, including the date, time, and selected services. Make sure all the information is accurate.
Step 5: Receive confirmation and notes
After confirming the appointment details, the team clark will provide you with a confirmation slip or any additional instructions or notes for your appointment.
Why Choose Costco Tire Center
If you are in the market for new tires, then you may want to consider checking out the Costco Tire Center. This automotive department of Costco Wholesale offers a variety of benefits that make it a great choice for anyone looking for quality service, reasonable prices, easy appointments, and transparent pricing.
Quality Service
One of the most significant advantages of the Costco Tire Center is the service quality. All of the technicians are certified and experienced, ensuring the vehicle is in safe hands.
Costco also uses state-of-the-art equipment, which helps to ensure accuracy and precision when mounting and balancing tires. Additionally, they offer a variety of services beyond just tire installation, including rotations, balancing, and nitrogen inflation.
I bought a set of Michelin tires at Costco 2 years ago, and I've always enjoyed free tire rotation, balancing, and inflation since then, which saved me a lot of bucks.
Reasonable Price
Costco is well-known for offering its members great value for their money, and the Tire Center is no exception. The company uses its buying power to negotiate with tire manufacturers to provide lower prices on tires.
They also frequently have promotions and discounts on top of their already reasonable prices. Additionally, the company has a reputation for not upselling unnecessary services or products, so you can trust that you are only paying for what you need.
See more: Are Costco Tires Cheaper?
Easy Appointments
Another advantage of the Costco Tire Center is the ease of making an appointment. You can schedule an appointment online or by calling the center directly.
Additionally, the company offers a mobile app that allows you to make appointments, track your service history, and receive notifications when your vehicle is ready. With locations across the country, you are likely to find a Costco Tire Center near you.
Costco Service Prices
One thing that sets Costco apart from other tire retailers is the transparent pricing.
| | |
| --- | --- |
| Service | Price (approximate) |
| Tire installation | $15 per tire |
| Tire rotation | $18 to $27 |
| Wheel balancing | $20 per tire |
| Flat tire repair | $15 per tire |
| Battery installation | $15 (labor only, battery cost separated) |
| Brake pad replacement (per axle) | $99.99 (labor only, parts cost separated) |
| Oil change (includes filter) | $39.99 |
| Fuel injection service | $89.99 |
| Diagnostic testing | $99.99 |
Frequently Asked Questions
Does Costco Tire Center Do Walk-Ins?
Yes, Costco Tire Center does accept walk-in appointments for tire services. While walk-ins are welcome, scheduling an appointment is always preferred as it ensures that your service can be accommodated in a timely manner. It's always recommended to check availability and wait times beforehand.
Can I Use Costco Tire Center Without A Membership?
No, you cannot use the Costco Tire Center without a membership card. However, if you don't have a membership but still want to use the service, you have the option to purchase a membership, which can be done online or in-store.
What Time Does Costco Tire Center Open?
Generally, the opening hour is from 9:00 AM – 8:30 PM. Still, this may differ depending on your exact location.
What Is The Best Day To Go To Costco?
Generally, weekdays tend to be less busy than weekends, so if you're looking to avoid crowds and long wait times, scheduling a tire appointment during the week may be the best option. If you're looking to get in and out quickly, scheduling your appointment during the afternoon or evening on a weekday may be your best bet.
The Bottom Line
Scheduling an appointment at Costco is a simple and convenient process that can save you time and money in the long run. You can choose the method that works best for you and ensure that your vehicle is properly equipped and maintained.
Don't wait until the last minute – make your Costco Tire Center appointment today and enjoy the peace of mind that comes with reliable and affordable tire services.
For more: Does Costco Have Air For Tires?