Punctured tires are the most terrifying nightmare for any driver out there. Imagine sudden tire blowouts in the middle of nowhere with no repair shops or service centers around; trust me, my entire day got completely ruined.
Fortunately, Firestone does offer options for tire patching services. The burning question is, how much does Firestone charge to patch a tire? will it be free on special occasions?
In this article:
How Much Does Firestone Charge to Patch A Tire?
The estimated price mostly fluctuates around the $10-$20 range – depending on feature availability and the issue's severity.
Still, I have been a loyal Firestone customer for quite a few years, and tire patches at this service center never cost me more than $20. That is pretty affordable, don't you think? Even tight-budget customers will find these charges to be quite a huge bargain.
Aside from fixing flat tires, Firestone also offers to handle other issues and fixes (if any), saving me from hours of driving back and forth.
Is It Possible to Patch A Tire for Free At Firestone?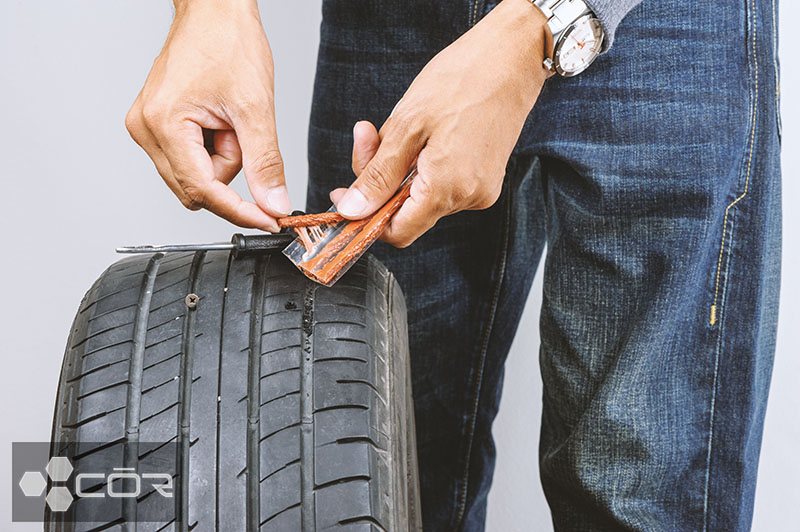 Yes, but…
I had to enroll in the road hazard protection warranty besides the base guarantee from my purchase, and it promised to cover certain punctures and flatting issues for me at zero costs. Better yet, the brand will help me replace these tires if repairs are not feasible.
Sounds good, right? However, after a few months, I do realize this warranty also arrives with tons of limitations, refusing to cover:
Can You Patch A Tire On Your Own to Save Cost?
Yes, why not? Though more time-consuming, it did save me quite a huge budget portion.
However, please note that these steps apply only to minor, doable holes or tire punctures. Otherwise, my advice is to leave the job to professionals and experts:
Step 1. Mark the patch spot with a tire marker.
Step 2. Rough the crosshatch pattern area with a scuffer tool, allowing the patch to adhere better. If any extra rubber pieces linger after the scuffing, wipe them away. 
Step 3. Spread rubber cement onto the surface evenly, and wait until it becomes tacky. Another of my favorite approaches is to rub the cement onto the patch (guaranteed that the patch's backing has been removed – refer to Step 4 below).
Step 4. Pull off the patch's backing without pressing the exposed area. Once done, position it over your puncture location.
Since my Jeep uses radial tires, the patches can be instilled anywhere I choose. However, bias tires demand specific patch alignments against the bead, so remember to observe the arrows/instruction labels carefully. 
Step 5. Press your patch over the surface; do not neglect any of its edges. Force out and stitch all trapped air using your buffer tool, and ensure all patch edges are securely attached. Once done, remove the patch's plastic backing.
Step 6. Give the patch sometimes to drive completely before remounting/airing up the tire. Congratulations; your tire-patching mission is a huge success!
Where to Get A Free Tire Patch Near Me?
Here are some of my favorite stops – whose dedicated services and staff have been great allies during some of the darkest moments for my Jeep. Let's check them out:
Belle Tire:
Offerings: Plug-patch fixes for the rest of the tire's lifespan
Condition: Only for customers already purchasing Belle's tire installation packs.
Discount Tire:
Offerings: Plugs, patches, and inspections for repairable tires
Conditions: Only apply to tread areas. Defects on the tire's sidewalls and shoulders demand replacements.
Goodyear Auto Centers
Offerings: Plugs, inspections, patches, and dismounts for Kelly, Dunlop, Goodyear, or any tires purchased for Goodyear stores.
Conditions: The tire must be repairable (without the need for replacements)
Offerings: Services and inspections for fixable tires
Conditions: Only available for select locations. I often have to contact the shop beforehand to double-check its availability and pricing.
Les Schwab
Offerings: Plugs and patches for Schwab tires (guaranteed they are repairable)
Conditions: For light truck tires and non-commercial cars only; unavailable for tube or lock-ring wheels
Tire Warehouse
Offerings: Plugs, patches, inspection, and dismounting services
Conditions: This tire brand only fixes holes in center tread areas or below 1/4 inches. It refuses to repair cuts.
Tire Works
Offerings: Plugs or patches for most vehicle types
Conditions: Tires are repairable, qualifying for RMA-guideline services
What Are Signs That Your Tires Need Patching?
My Jeep manifesting at least one of the following symptoms clearly indicates it needs some good patching. Double-check whether they are spotted on your cars, too:
Visibly Damaged Rims or Tires
Sizable dents on the tire rims are the first visible red flags, yet not enough to conclude it needs pothole repairs. It would be best to look closer and inspect whether there are bubbles or abnormal bulges – as they signify damaged inner linings that compromise your driving safety.
Your Steering Wheel Feels "Off" or Keep Shaking
I have been sticking with my Jeep for decades, so any symptom or signal that does not feel right cannot escape my radar.
Whenever my steering wheel starts shaking or vibrating, I know it's time to have the Jeep tires further diagnosed; their punctures must have either damaged my steering or caused severe misalignment!
Leaking Fluid
In certain cases, the car's undercarriage may have dipped a bit too close to the road as the tires stumble onto sharp objects, causing leaks and unwanted rust.
From my experience, average drivers barely have any background expertise regarding such issues, so the best bet is to contact trained tire technicians. They will help diagnose any potential undercarriage damage before it worsens.
When Can A Tire Not Be Patched?
Who doesn't want to have their punctured tires nicely patched without replacements? Unfortunately, that is not always the case. As the following symptoms ensued, I had no choice but to have my Jeep tires swapped completely:
Large hole: Holes bigger than 6mm (0.2 inches) can never be patched, as the wound has extended far beyond repair. Wear indicators that touch 2/32 are also unavailable for patching, as the traction isn't adequate for driving anymore.
Punctures on the shoulder: Cracks on the shoulders or sidewalls peel off my Jeep's sticker and significantly weaken its air cushion. Patches are nothing against them; the air will keep leaking.
What Are Other Tire Services Offered By Firestone?
Plugs and patches are just one among tons of amazing Firestone automobile services. The staff has been taking great care of my Jeep in terms of:
Battery replacements and services
A/C service
Suspension system and steering maintenance
Engine tune-up
Transmission Service
Drivetrain maintenance and repair
A/C service
Cooling system maintenance and fix
Vehicle inspection
FAQs
Are Firestone Tires Expensive?
In my opinion, no. At a range of $80 to $120, they are very affordable and even cheaper than some competitors.
Is It Okay to Drive On A Patched Tire?
Yes. Well-patched tires should last your car for long periods (I would say as long as it still sticks to the tire and prevents air escape).
Conclusion
I have discussed all there is to know about the Firestone flat tire repair cost, as well as other extra tips to ensure your car tires receive the best and most affordable patching treatments. If you still struggle or feel uncertain, remember my inbox is always available.