Remember that you cannot mix used tires with things in the trash and leave them all in the landfill. According to the Environmental Protection Agency, your actions are against the law because these wastes pollute the ground (you must cut the tires in half first).
So how to get rid of old tires? There are ways to recycle these items properly or give them a new life. Scroll down to learn.
In this article:
What To Do With Used Tires?
Here are some brilliant ideas to recycle & upcycle your tires:
1. Reach Out For A Scrap Transporter
Contact junk removal service or scrap haulers if you have accumulated a pile of tires or failed to handle them yourself. These businesses often come to your place to collect all scrap tires and transport them back to the depot.
Some even offer their recycling services or partner with a third party. So make it clear what the supplier does with your items.
Contact your local environmental agency for a list of eligible transporters. Then clarify two selling points:
What is the minimum number of units they require?
How do they charge?
2. Head To A Tire Recycling Center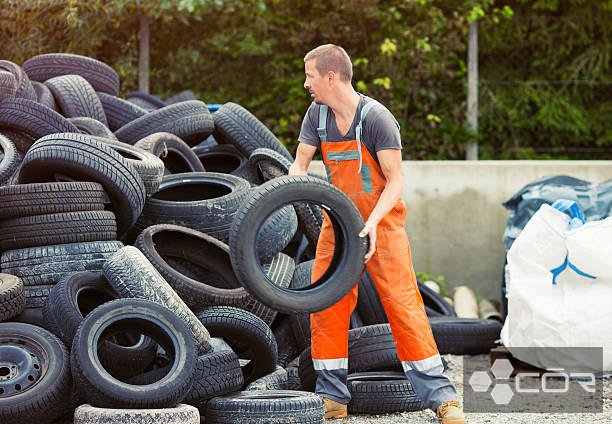 There's nothing better than having a recycling center that takes old tires located near you. Bring your tires and hazardous waste (batteries, electronics, etc.) there and have them handle it. However, you should contact them first to ensure they accept your request.
It's also best to ask about potential fees and limitations (e.g., up to 4 items per guest). The local environmental protection department provides specific instructions if you do not know the address.
You can also head straight to specialized recycling organizations, where they focus on tire waste. Unlike the usual facilities, they set specific purposes for using the tires. For example, some stages are designed to tear your items into pieces and produce rubber mulch.
Search "tire recycling center near me" on Google to find local providers. Or else, refer to our list below for some trusted recycling centers:
3. Ask A Local Auto Shop
Leaving your old tires at the auto shop when you buy new tires is the easiest way to give them new life. These retailers often send your items to another recycler. They may include this into the purchase price as an additional fee (about $5-$20 per unit), but it is worth the time savings.
Even if you do not invest in a new product, contact these retailers to see if they accept old tires. Some still accept this service for an affordable fee.
4. Participate In Tire Collection Event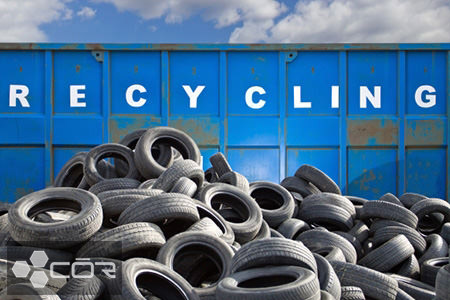 Waste collection events have become popular in recent years, and they could help you dispose of tires for free. The local government organizes regular mentoring programs and encourages residents to bring in special waste that is forbidden to be put in the junkyard.
Check with your area's solid waste department for specific organizational plans. You can also check on social media or your local news agency to catch up with the time, place, and general rules of the show. Make sure the event accepts tires before you bring in your used items.
5. DIY Recycle/Repurpose
DIY Swing
Summer is approaching, and your kids will be liberated from school time and assignments. Don't let them be glued to the TV or smartphone all day. Instead, do an old-fashioned tire swing and encourage them to participate in the outdoor activities.
Clean the tire and then drill some drainage holes. If you lack DIY experience, go for the vertical swing. Twist a rope around a sturdy branch and then hang the tire on.
Another idea is a horizontal swing that gives players more seats. However, this project requires experience in drilling to attach the eyebolts to the tire sidewall.
For more: How to make a tire swing?
Flower Planters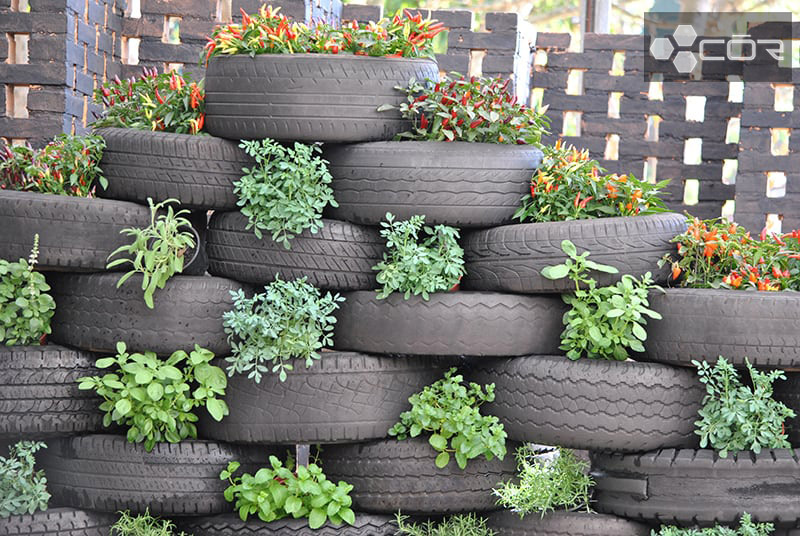 The entire process is as simple as a piece of cake. Choose a suitable spot in your garden and put the tires in place. Fill the hole with potting soil or compost, and place your favorite plants into it. It is best to choose small flowers, herbs, or edible plants for this flower pot because growing space is limited.
If you want to create something different for your garden space, decorate these pots. Paint the outside, wrap the old rope around, or cut a few lines on the top – let your creativity unleash.
At an advanced level, think of the hanging flower planter. It is similar to how you would make the vertical swing but with a shorter length of rope. Drill a hole in the bottom for drainage, fill the bottom half with soil, and place the plant in the inner sidewall. This idea is ideal for a combination of small tires and vines.
Exercise Equipment
Outdoor fitness equipment can be expensive, but a large tire can save money. Gym people are no strangers to this idea when it often appears in gyms with grass courts.
All you need is a large tire and set it up according to your workout. There are two basic equipment to try at home, including:
Lateral jump: Squat on one side of the tire, jump over to the other, and land in a semi-squat position. This exercise helps develop the muscles in the lower half of your body.
Box jumping: Enter the line upright, then squat down slightly with the upper body forward. Then take the momentum and bounce on the tire while the arms swing back.
Backyard Playground
If you have a lot of tires, do not hesitate to embark on out-of-home toy projects for your kids. Potential designs include:
Kids can spend hours playing in the sand on the beach. If you don't have time to take them to the white sands, make them a sandbox that recreates this fun experience.
You may need an old tractor tire larger than standard car tires for a larger space. Then, line the bottom with a wooden or hard plastic board and pour a few bags of play sand. Add a few sandblasters, and that would keep your naughty child engaged all day.
An adorable totter teeter wins the hearts of any little kid. Cut the tire in half and secure the cut side to a thin board. Add two handles and some decorations and paint it with different colors. With simple materials, you have got two totters at once.
If you want to remove many tires immediately, arrange them into an obstacle course. But first, you need a detailed plan for placing these units to make a great challenge.
It is best to decorate these items before gluing them to the floor, porch, or any place large enough to deploy your design. Place the tires at different angles so players can jump or climb over and crawl through those obstacles.
Home Furniture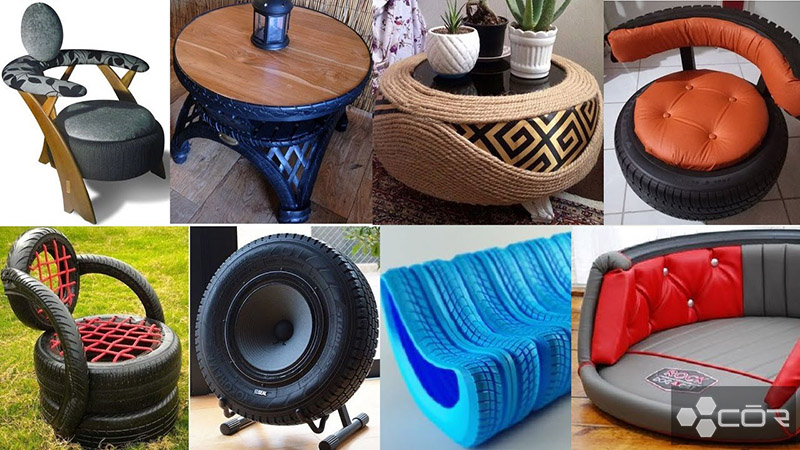 Used tires are more useful than you think. Breathe new life into them and turn them into good home furnishings.
Do the long and tangled garden hoses make you impatient when using them? Make carry cases and roll them up inside. You should cut about 1/3 of the top part to make removing and installing the hose easier.
There are many ways to make this idea come true. For example, wrap rope around a tire for a smooth finish and make several long pieces of wood for legs.
Remember that you will need several pieces of wood to glue on both sides to create a flat surface. Consider stacking two tires if you want a taller table. Or just place a board on top of a cleaned tire, and you have a table in no time.
Let your creativity and ingenuity run wild to create unique chairs. If you need some basic ideas, refer to ours:
Tube seat: Wrap colorful ribbons or fabric around the tire, and you have a roof-top seat in front of the TV.
Stool chair: Insert thick padding into the center hole. Opt for colorful cushions if you don't plan to add anything to the pedestal below.
Bench: Use a tape gun to glue a tire to a tall wood pallet (depending on how tall you want it to be). Wrap a sponge over the top of the tire and then wrap the entire project in fabric.
Where To Take Used Tires?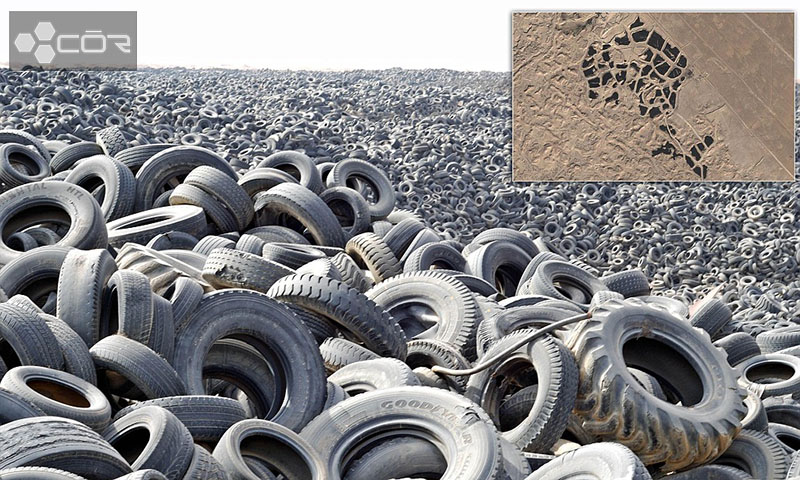 Where to get used tires if you don't have the materials for the DIY projects above? In addition to the secondhand shops, here are the addresses you can visit.
Car insurance company
These companies accept numerous auto insurance cases each year related to weather disasters, traffic accidents, etc. Most killed the engine, wiring, and bodywork, but the tires survived.
Large insurance companies sell the entire vehicle to salvage yards, but smaller ones tend to disassemble and sell the tires separately.
New tire shop
Don't be surprised but check your previous tire purchase bill. Is it an additional charge for tire disposal? This means that those shops receive old tires from their customers after their services and find ways to get rid of them.
Some are damaged, while others are still legal because the previous owners kept the treads at a certain level. Tire shops get rid of non-reusable items by sending them to a landfill or recycling center. If you are lucky, you can get them for free.
Rescue yard
Besides the main service, salvage yards have another regular source of income – selling working parts disassembled from crashed cars.
But this service has become less popular since those organizations do not want to get into the trouble of identifying what tires are still qualified to hit the road. However, you can turn to these places to get old tires for $5 or thereabouts if your goal is upcycling.
FAQs
Why Is Tire Waste Bad?
Used tires improperly handled can become a breeding ground for mosquitoes and other pests. Unfortunately, the measures to treat them also harm the environment. For example, burial damages the soil as these units crumble. Meanwhile, burning waste releases greenhouse gasses and other toxic chemicals.
How Efficient Is Tire Recycling?
Instead of ending up in landfills, 90% of tires are reused and recycled yearly. Recycling tires is estimated to reduce about 323 pounds of carbon dioxide, which equals 18 gallons of gasoline.
Conclusion
If you consider recycling options, ensure you get your items to the right destination. If so, they undergo rigorous processing to apply for the production of tire-derived fuel, ground rubber, or civil engineering.
You kill two birds with one stone when you spend time and effort on DIY projects. Regardless of the option, you have contributed to reducing hazardous waste on our green planet. And this is always worth the hassle!
See more: How Much Does A Used Tire Cost?