Some people wonder whether the bolt pattern is important. The quick answer is YES. Suppose you want to change to a new set of rims for your vehicle and then invest in the wrong lug nuts.
You end up unable to mount the wheels back in your car. Hence, you must find the correct items among a wide selection of wheels to enjoy smooth and safe operation. Let's start with the 5×120 wheels today, available on BMW 1-series, Buick Regal, Chevrolet Camaro, etc.
In this article:
What Is The 5×120 Bolt Pattern?
The 5×120 mm (5×4.72 Inches) bolt pattern indicates a design consisting of 5 lug nuts forming a bolt circle with a diameter of 120 millimeters (4.72 Inches). You can find this on your vehicle's manual or measure it yourself.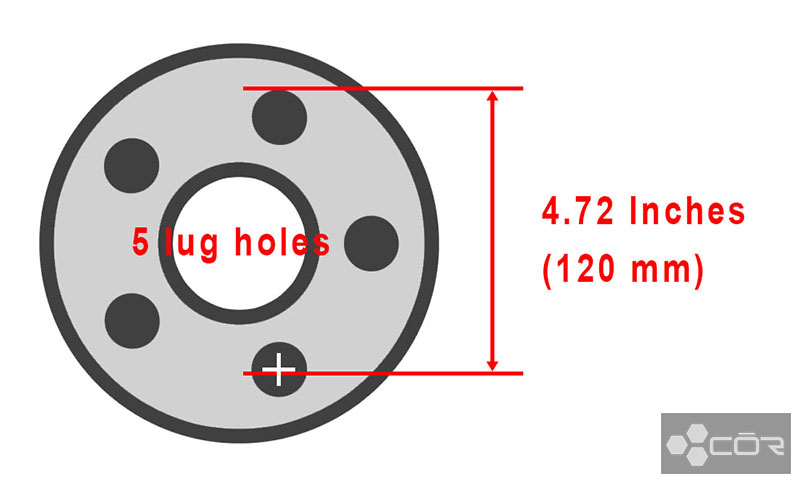 Choose any wheel and disassemble the hubcap. Then look at the center area and count the number of nuts. It is more difficult to check the diameter of the imaginary circle.
Start at the center point of any nut and extend the ruler to the outermost edge of the opposite. If you come across 5 lug holes and measure the center distance of 120 mm, your wheels come up with a 5×120 bolt pattern.
You can also find another variation of this parameter – 5×4.72. Both numbers indicate the same pattern, but the difference in this spec is conversed from metric to inch.
Cars With Bolt Pattern 5×120
The 5×120 lug pattern is a common standard on BMW luxury cars. Also, you can find it from other brands like Acura, Cadillac, Chevrolet, Honda, Land Rover, Tesla, Buick, GMC, Hyundai, Kia, Lexus, etc.
| | |
| --- | --- |
| Brand | Models |
| Acura | MDX, NSX, RL, RLX, TLX, ZDX |
| BMW | 1-8 series, M Couple, M Roadster, M1 to M6, X1 to X6, Z3, Z4, and Z8 |
| BMW Alpina | B10 to B12, B3 to B8, D3 to D4, D10, Roadster, XD3 |
| Bentley | Arnage, Azure, Brooklands |
| Buick | Allure, Century, Envision, GL8, LaCrosse, Park Avenue, Regal |
| Cadillac | ATS-V, CT4-V, CT5, CTS-V, XT4, XTS |
| Chevrolet | Camaro, Corvette, Equinox, Impala, Malibu, Malibu Limited, Omega, SS |
| GAC | GA8, GM8, GN8, GS7, GS8, GS8S, M8 |
| Honda | Civic Type R, Legend, NSX, Odyssey, Passport, Pilot, Ridgeline |
| Hyundai | H-1, H-100, HR, Porter |
| GMC | Yukon, Terrain |
| Kia | Optima, Forte, Sportage |
| JAC | E-JV5.5, K3, K5, Refine, Refine M3 TO m5, Reni, S7, Sei 7 Pro, Sunray, T8, T80, X200, X30, iEV750V |
| Land Rover | Defender, Discovery 2-5, LR3-4, Range Rover, Range Rover Sport |
| Lexus | LC, LS |
| Mini | Countryman, Paceman |
| Mahindra | Genio, Xylo |
| Opel | Admiral, Insignia, Insignia Country Tourer, Insignia OPC, Senator |
| Pontiac | G8, GTO |
| Tesla | Model S, Model X |
Tightening 5×120 Bolts
Require Tools
Jack and stands
Torque wrench
Owner's manual
Detailed Instruction
Tightening the lug wheels may already be the last step in your car's maintenance routine or part of your car routine, as the manufacturer recommends. Whatever the purpose, follow our tutorial: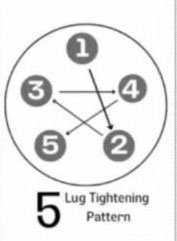 Raise the vehicle with jack stands.
Check these bolts for damage and wash them if necessary. You can also add lubricant to make the next steps go smoother.
Install the wheel and then lug nuts by hand. You can use a wheel wrench at this step but only twist about half a turn.
Lower the car.
Use a torque wrench to tighten the bolts in star order. This time, the maintaining force is equal to the torque specification mentioned in your manual.
Have a test drive to check the tightness again.
Can You Put Wheels 5×120 On 5×114.3? 
The answer is YES. You can invest in a wheel adapter that adjusts a wheel bolt pattern that does not normally fit into your vehicle. Here is what you need to do:
Look for a 5×114.3 adapter (or whatever size you require). While some are available in the market, you sometimes spend extra money on custom items.
Loosen the lug holes on your wheel and then lift the car. Disassemble the existing nuts and wheels.
Insert the adapter into the hub and install the included bolts. Use a torque wrench to twist these parts until the hub surface is flat.
Secure new wheels come with OEM lugs. Tighten the center holes again to the torque specification specified by the manufacturer.
FAQs
Is BMW 5×120 Or 5×112?
Most BMW models come up with 5×120 wheel lugs, but there are some expectations born with 5×112 design, including 2 Series, 3 Series (G20), and X1.
Can You Convert 5×100 To 5×120?
Yes, a wheel adapter comes to solve your concern. The tutorial is the same as when you convert 5×120 to 5×114.3.
Conclusion
As you have seen above, the bolt pattern 5×120 is very popular in the car industry. However, owners need to pay attention to more things, including torque specification, center bore measurement, and rim & tire dimensions when they perform tire assembly or consider replacement wheels for their vehicles. 
Please refer to the user manual carefully or otherwise consult a professional before service.