The term "pneumatics" indicates systems that use compressed air or gas to deliver energy and force. For example, it is similar to a balloon being inflated, then released and flown around the room.
The same principle applies to many products, such as drills or tires. While technical tool manufacturers aim to make a quick move through thick metal sheets, which benefits does the pneumatics wheel serve? Scroll down for the explanation.
In this article:
What Does The Term Pneumatic Tires Mean?
Pneumatic wheels have their inner airtight core structure filled with pressurized air, which defines them among others. Manufacturers reinforce the exterior with thick molded rubber and steel belts. The bottom layer, known as "piles," is made from rubber-coated polyester.
You may have encountered millions of tires before and mistaken them for ordinary products. This option is common on industrial forklifts, wheelbarrows, tractors, or hand trucks.
You may also find it on your current vehicle as long as the tires are inflatable. How to recognize it from the get-go? Just search for the valve that allows air to come in the tires. Solid tires don't come with this part (duh, as solid ones don't even need air inside them).
You may also wonder how a pneumatic wheel works. A strong internal pressure shapes the structure and boosts traction. At an ideal pressure index, it achieves stability and a good load rating. Conversely, it sags if the pressure drops below the recommended level. Hence, it is important to maintain air pressure and replenish it as needed.
What Are The Benefits And Drawbacks Of Air-Filled Tires?
Pros
Absorb shock
This type of tire possesses a 20,000-pound lift capacity, but that is not the greatest part. These items help the driver conquer bends or uneven terrain with ease.
The ability to absorb shocks and vibrations increases the protection of the tires on your vehicle. If you regularly transport fragile and expensive goods, consider these options.
This feature also makes sense with the driving experience and lifespan of the vehicle. Drivers benefit from a comfortable ride, and strong bumps do not badly influence the complex internals.
Durable
These products are more durable than others on the market due to their sturdy construction. Solid tires serve an even longer usage time because they come with puncture-resistant properties.
Limit noise pollution
Another plus of natural rubber layers is that they produce little or even no sound at all. The pressurized air not only soaks in shocks but also noise, and the soft rubber even generates less sound volume. As a result, your driving experience is greatly improved due to the smoother ride.
Better traction
These tires promise good traction to go through rough, dry conditions. They also inherit the flexible handling to nail sidewalks or potholes.
Safe for floor
Soft rubber pliers provide a smooth and flat surface when they come in contact with any terrain. This is ideal for you to consider for indoor uses or storage. The tires do not leave scratches and damage to your floor after they roll over.
Cons
Poor maneuverability
Tires that can withstand 20,000 pounds must certainly come up with a bulky appearance. They undoubtedly belong to the heavy side, especially with solid rubber items. Their huge design makes it difficult to transport because they require great thrust to move.
Period inspection and maintenance
Air pressure determines the tire's performance and condition. Hence, you must ensure a consistent level with regular monitoring and maintenance. A flat tire is a bad prospect, especially on the highway.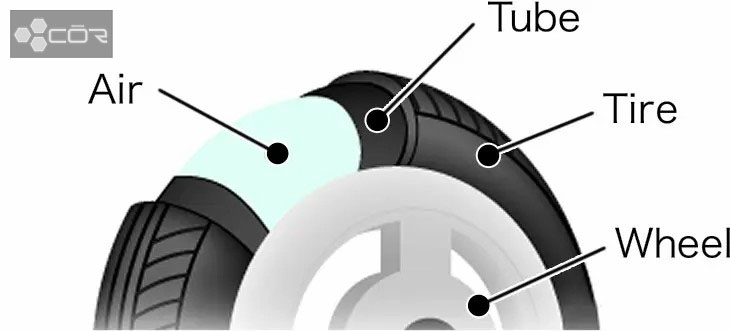 Though learning the exact index recommended for your part is difficult, it is a must to know. Under-inflated or over-inflated items all end up in a disaster.
The extra force of the driver
The person behind the steering must pull off all their strength to move the wheels. Despite how much driving experience you gain, you may struggle to move ahead in the first few minutes.
Verdict: Is It Worth Your Money?
Yes, of course. These products deserve the first spot on your buying list if you want a reliable tire for outdoor work. Besides, you should not sleep on it if you regularly drive on uneven or bumpy road surfaces such as construction sites or pothole-riddle routes. We also recommend it for gravel or sandy areas.
Solid Vs. Air Pneumatics: Which Suits Your Car?
The main category, pneumatic tires, is divided into two branches – air (also known as a cushion) and solid. While the first option is filled with compressed air, the other is made of solid rubber or foam.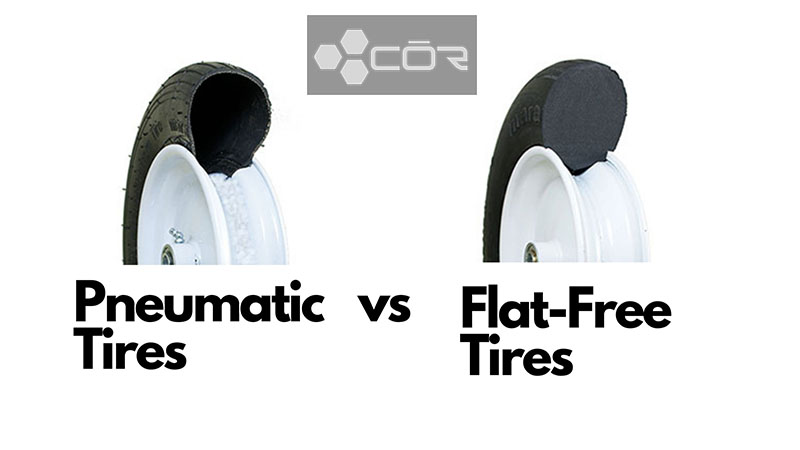 If your vehicle performs on flat conditions, consider cushion tires. In contrast, you should lean towards solid rubber tires, as their large frame and durable tread design are meant for rough surfaces. Refer to the table below for a quick comparison.
| | | |
| --- | --- | --- |
| Category | Air Pneumatic Tires | Solid Pneumatic Tires |
| Comfort | Excellent shock absorption to provide a comfortable ride | Little elasticity causes bounce while driving |
| Recommended usage | Indoor and outdoor, but in clean condition | Industrial sites are filled with sharp objects such as metal fragments, nails, glass, etc. |
| Owner expense | Cost less but prone to punctures | Cost more but last longer |
| Maintenance | Period | Minimal |
FAQs
Do You Have To Put Air In Pneumatic Tires?
Definitely, yes. It is the only way to inflate these tires and get them to work at their best.
Do Pneumatic Tires Go Flat?
Yes. Puncturers and debris can leak air pressure and cause tires to deflate. Even without harmful factors, these items may go flat compared to the ideal condition.
How Long Do Pneumatic Wheels Last?
As long as your item does not hit nails or sharp objects, you can expect it to last 60,000 miles. However, the tires heat and wear out faster if you do not provide enough pressure.
Conclusion
Through pneumatic tire meaning, you can understand how it works and the advantages and disadvantages. Two options (solid and air) with separate specifications meet each user's needs, so please make an appropriate choice. Do not forget to check the air pressure with air-filled types and service on solid types to maintain good condition for a long time.